We've talked a lot about face masks ("eye pillows") here in the past. Having a way to block out light is quite often a life-saver for someone having a migraine attack.
There is one face mask that we haven't talked about, and it has become very popular. I wanted to find out why, so I did a little investigation.
Out of almost 2000 customer reviews on amazon, the Sleep Master has a solid 4.1 stars out of 5. That's very high for that number of reviews, considering that a face mask really is a very personal thing – there is no face mask which is perfect for everyone.
Now I haven't yet tried the Sleep Master, but after reading reviews and watching some videos (I'll include a couple below), I can tell you what customers are saying about it.

The Advantages of Sleep Master
Here are some of the advantages that this face mask seems to have over the competition:
Lightweight, and yet covers well. For a migraine patient, blocking out light is key – every BIT OF LIGHT. The design of Sleep Master is unique – it fits well over your nose (no matter how big or small it is!) and covers a lot more area than a typical eye pillow.
The wrap-around design keeps the mask over your eyes. I've tried quite a few face masks, and let me tell you – they slip and slide all over the place, especially if you're tossing and turning in bed. Sleep Master velcros to itself, and so is not as likely to slip.
"Sound muffling". Although I ear plugs are included with your purchase, this sleep mask muffles sound without them, because it goes over your ears. If you don't like the feel of ear plugs, or you want to be able to hear some sound if necessary (for safety reasons), but muffle it, this is a great option.
Washable and durable. Unlike some of the more or less disposable sleep masks I've used in the past, Sleep Master can be washed and is high quality. A customer survey indicated that even with daily use it will last for many years.
Adjustable pressure. This is key for migraine patients. Some of us like a bit of pressure during an attack, others want to keep it at a bare minimum. Because of the way the velcro attaches, Sleep Master is adjustable. Nice!
Can even be used with CPAP.
Because Sleep Master wraps around your head, those with long hair actually claim that it keeps their hair style in place while they sleep. That's something I won't be able to test – but that's the word on the street.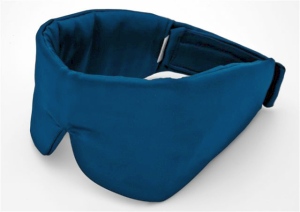 Now, you may be wondering if this will actually work well for migraine patients – I was curious too. So I checked out the reviews again. The answer – almost every migraine sufferer who reviewed Sleep Master gave it 5 stars – even better than the overall reviews!
Impressive.

Where can I get Sleep Master?
I'll leave you with a typical review, and the two videos I mentioned (for a good idea of what the mask is like, check out the first video).
Sleep Master is available in the USA at amazon.com, and in the UK and some international locations at amazon.co.uk
Love this sleep mask. It is really comfortable and blocks out all light. Between my work shift and getting migraines, I have a lot of trouble sleeping and this has helped me immensely since I started using it. I have tried a few others with the elastic strap on the back that would pull my hair or slide off my eyes whenever I would move which would wake me up after I had actually fell asleep. The adjustable velcro strap allows me to loosen or tighten it depending on how I am laying and whether I have a headache or not. I have tried to use every style of earplugs but they would not stay in my ears and the ones that came with this mask do, even if I am not wearing the mask. The mask just gives a little extra holding power to keep the earplugs in. It is silky and slightly padded so when I roll around it is still comfortable and doesn't stick to the pillowcase. I was concerned about the cost because others that I have tried were so much cheaper but that is just what they were, cheaper. This works and is comfortable so I have to admit that the cost of this would have been cheaper had I bought it before trying all the cheap ones that didn't work or I wouldn't use because they were so uncomfortable. My only regret about this mask is that I didn't purchase it a long time ago. (Dawn on amazon.com)
Yep, this one is going on my wishlist!