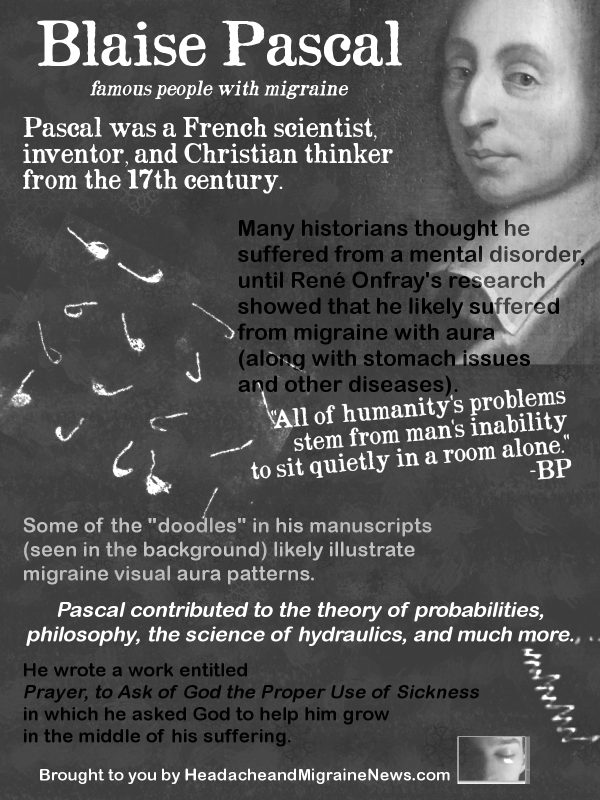 Blaise Pascal was a French scientist, inventor, and Christian thinker from the 17th century.
Many historians thought he suffered from a mental disorder, until René Onfray's research showed that he likely suffered from migraine with aura (along with stomach issues and other diseases).
Some of the "doodles" in his manuscripts (seen above in the background) likely illustrate migraine visual aura patterns.
Pascal contributed to the theory of probabilities, philosophy, the science of hydraulics, and much more.
He wrote a work entitled Prayer, to Ask of God the Proper Use of Sickness, in which he asked God to help him grow in the middle of his suffering*.
Well known quote: All of humanity's problems stem from man's inability to sit quietly in a room alone.
Credits and more information:
Image of Pascal above is by an unknown artist, circa 1690, courtesy of Janmad.
*Note: Pascal believed that at least some of his sickness was sent by God to correct how he misused his time when he had his health. The Bible teaches that sickness is not always the result of a certain fault, and that we do not always know why we suffer from specific problems. But Pascal believed that suffering not only had purpose, but that he could grow in the middle of it, and maybe even because of it.
{ 0 comments }