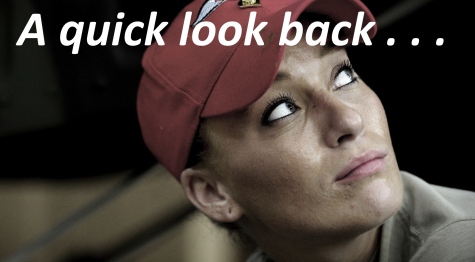 New treatments? New research? Tips? What have you missed this year in the world of headache and migraine news?
It's time for a brief look back over the year. This is what we're going to do – for each third of the year, I'll share the four posts which were the most popular with you, our guests. The most-read posts. Then I'll share four more posts that I think you shouldn't miss.
January to April
A left-over popular topic from the end of last year, Daith Piercing for Migraine: Resources and Updates was a follow-up of two other popular posts, which you can read here and then here.
Next, some research and a new app featured in Discover the Real Truth about Your Migraine Triggers.
A fascinating new treatment which is being researched – $5 Eye Drops to Stop Migraine Attacks?.
Finally, a reminder to be cautious in Are You Taking These Common Medications (that could hurt your brain?).
And my picks for the first four months. First, another way to think about migraine and share the reality of migraine with someone else – Migraine as Virtual Reality (Don't Miss This Video)
Next, let's get really practical. They Hated Swallowing Pills, Until . . .
And here's a news story that will make you think twice about the "painkillers" you buy – Is Your "Targeted" Migraine Painkiller Worth the $$$?
And finally, a specific condition explained – Lumbar Puncture Headache: Science In Clear Language
May to August
First, are your headaches related to a thyroid condition? Thyroid Headache.
A different kind of help for migraine (and other types of) dizziness and vertigo – Migraine Treatment: Vestibular Rehabilitation.
Next, a challenging question for all of us – "Coming Out" As A Migraine Sufferer (and why we don't).
And a specific condition you should be aware of – MUMS – Migraine and Arm Weakness
And now, my recommendations from the second third of the year. First, excuse me for getting on the soapbox again, but you really should read Why You Should Not Accept the "Stress" Diagnosis of Migraine.
Another practical post – some rare research on probiotics here (it made me change my brand) – More Research on Probiotics – Which Should I Use?.
It's a very modern issue – migraine genetics, and whether or not we will soon be able to "repair" genes that are causing migraine attacks. Here it is – Migraine Genetics – What if…?
Finally, a podcast to listen to, on a very important topic for anyone considering butterbur for migraine. The Butterbur Controversy (Podcast).
September to December
That's a good question – Should Doctors watch for "Cognitive" Problems in Migraine Patients? Will it help us get better treatment?
Next, back to the thyroid. Migraine and Hypothyroidism: New Study Confirms the Connection
Can a little technology help fight migraine? Let's consider FitBit and Migraine.
And the last of your favourites, a very important topic – Helicobacter Pylori and Migraine.
For my picks – another symptom you should mention to your doctor – When Taking a Shower Hurts: Migraine and Depression.
Next, a recent update on the coming new migraine-targeting medications – Approaching the Finish line: CGRP Inhibitors.
What if I have different types of pain? Should I be treating a "nerve headache" along with my other headache condition? Nerve Pain in Head: A Different Kind of Headache
And last but not least, an important reminder to watch for certain symptoms in children – Is Your Child With Migraine Tired and Depressed?
See You Next Year!
Thanks for being a part of the community in 2016. I hope that you've been able to see improvements in your health thanks to things that you've learned here. Thanks also to those who have written to tell me that they've been able to fight back against migraine and other headache conditions!
You can certainly write me if you appreciate the hundreds of articles here. But why don't you consider giving to the Migraine Research Foundation as well? Just a few dollars can make a difference when we all pitch in. Of course, large donations go a lot farther!
As the new year begins, let's not give up. As always, it's time to fight back.