Recently I was reading an article which listed the remedies that 19 different people used to fight migraine. Although I wouldn't recommend all the remedies listed, the article is worth it, just to see the animated gifs! (Check it out – 19 People Dish On The One Thing That Makes Them Feel Better When They Have A Migraine)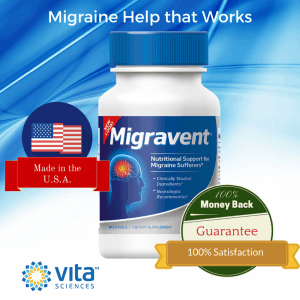 One of the preventatives certainly deserves a little space here because it has helped a lot of people, and that is Migravent.
Migravent is one of many supplements taken to prevent migraine, although it is one of the more popular ones. It is designed to be taken with food, 2-3 times a day.
The ingredients are mostly well known for their migraine-fighting properties. Riboflavin (vitamin B2), magnesium (oxide and citrate), coenzyme Q10, and butterbur. It also contains piperine (BioPerine), an extract from black pepper, which helps with nutrient absorption (and may also be a mild antidepressant). Migravent is gluten free.
There has been a recent concern with butterbur products, but the company notes that the butterbur has been tested for safety by a 3rd party lab.
Although these ingredients are certainly available in individual supplements, researchers try to find special blends and delivery methods that will have maximum impact. Migravent is one of those products.
As you will see from the reviews on amazon, this product doesn't help everyone. But the reviews are generally very positive.
As with most supplements like this, I would recommend that you check with your doctor, and keep a headache diary so you know if it's helping. Usually 90 days is a minimum amount of time to see if something like this is really making a difference.
Have you tried Migravent? If so, leave a comment with your experiences.
Read more about Migravent here.