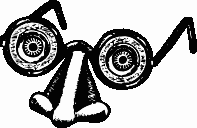 Researchers at the Georgetown University Medical Center made a surprising discovery about patients with sinusitis. It's not just about headache, stuffy nose and tenderness in the face. There's pain all over the body!
All right, this might not be so surprising to patients with sinusitis. But chronic sinusitis apparently does result in bodily pain – a symptom not usually listed. The researchers compared the pain with the chronic pain of the elderly, or those with arthritis.
Dr Alexander C. Chester, the study's author, notes:
Bodily pain is not listed as a symptom of chronic sinusitis in general medical texts or journals and as a result, patients are sometimes diagnosed with unrelated conditions such as arthritis, depression, fibromyalgia or chronic fatigue syndrome. Unfortunately, this leaves too many people unaware of treatments for sinusitis that can improve their overall condition.
Speaking of misdiagnosis, it is believed to be extremely common that people with migraine are misdiagnosed with sinus headache. Many symptoms are common to both – tenderness, congestion, and headache, for example (read more about sinus headache here).
Before taking drastic steps (such as going for surgery), it helps to get a second opinion from a qualified specialist, and it also helps to do your own research. Looks like you already are! 🙂
More from ScienceDaily on Sinusitis study