Reports that a common type of eye drops may be able to stop migraine is getting attention. And researchers think there may be good reason why it could work for many more people.
Could it be that, with all the talk about specially formulated pills and new injection techniques, that we've been missing another obvious delivery method?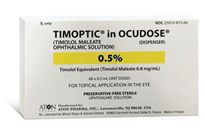 Several years ago the story came out of a woman who had been suffering from monthly migraine attacks. At one point she was diagnosed with bilateral ocular hypertension, and started taking eye drops (a timolol maleate solution). She didn't have another migraine attack – and was still migraine free after 18 years.
Since then there have been more reports. Some patients take the eye drops regularly, others just at the first sign of an attack.
Timolol is actually already well known as a migraine preventative (though not as eye drops). It's a beta-blocker, a common type of medication for migraine.
But beta-blockers are preventatives. They're not known for stopping attacks once they start. But what if an eye drop version could do just that? Could it be that the medication gets into the system faster, and is able to abort the attack?
The University of Missouri in Kansas City, USA wants to answer that question. They're starting a trial which will test the use of timolol drops as an abortive migraine medication. If the trial is a success, it could change the way we use beta-blockers and other medications for migraine.
And a few dollars for bottle of common eye drops – that's a whole lot better than what many of us have spent in the past.
Also see: