Recently in the free ezine HeadWay, we've been talking a lot about diet. In particular, sources of vitamin D, juices and smoothies, and anti-inflammatory foods.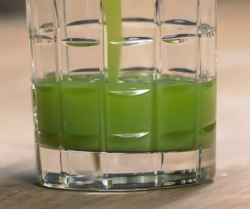 Very often a key component of headache-fighting diets is simply more fruits and vegetables – especially more green veggies.
Here's a video to show you a quick and easy recipe for anti-inflammatory juice. Yes, there is good science behind this. However, a caution. I would drink this with a meal, or else turn it into a smoothie, thus hanging on to the fiber. Slowly using smoothies to add nutrients to your diet is a great migraine and headache fighter. Quickly adding a lot of juice, and so a lot of sugar, can do the reverse.
With that being said, this recipe is packed with great headache-fighters, and is a fun place to start.
Do you have a great anti-inflammatory recipe? Share it here!