Can a migraine patient take drugs while she's pregnant? Common wisdom says "No – just suffer". Well, that ain't good enough.
First, take a look at this chart: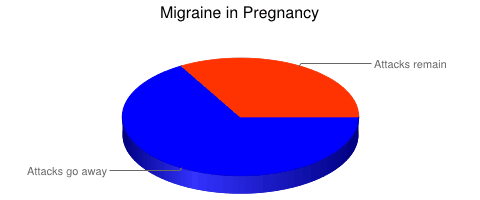 See that nasty orangy-reddish colour? That represents 1/3 of all pregnant women. Their migraine attacks just keep going all through pregnancy – and may get worse.
I know, I'm full of good news today.
So – just suffer? No way. Surprise surprise, migraine attacks are not good for you – or the baby. Yes, your pain (and other symptoms such as vomiting) can affect the baby.
Now many people ignore the many excellent non-drug treatments that are available, as if they "don't work". Well, they do work – as do drugs – for some. And in some cases they'll work better than drugs. Take for example massage and biofeedback and relaxation techniques and chiropractic treatment and foot massage and changes in diet and … the list goes on.
But it's a myth that pregnant women cannot take drugs for migraine. Many doctors do regularly prescribe medications for migraine during pregnancy.
As you probably know, it's a question of risk. For obvious reasons, few drugs have been carefully studied during pregnancy. But knowing that migraine attacks can do long term damage, the benefits may outweigh the risk – and the risk in some cases may be relatively small.
This month at the American Congress of Obstetricians and Gynecologists annual meeting in New Orleans, the news was that triptans were the go-to drugs, even during pregnancy, for more serious forms of migraine.
If you'd like to read the comments from some doctors, it may help you make an informed decision. The two articles below will get you started: