It's been a while since we talked about SpringTMS, so it's time to bring it up again. SpringTMS is a transcranial magnetic stimulation (TMS) device which you use as soon as you feel a migraine attack coming on.
Devices like SpringTMS are increasingly popular because they lessen your need for medication, they're easy to use, and there are few if any side effects. Of course the main benefit is that, in many patients, it stops the symptoms of migraine. Read more about SpringTMS here.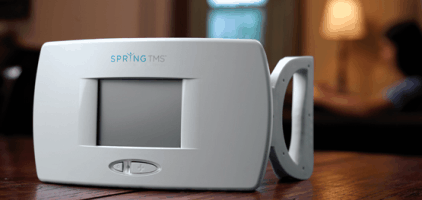 The device is currently available in the USA and the UK. I'm not sure about its availability or the logistics of getting it elsewhere, but if you have experience outside of the UK or US leave a comment.
In the UK, SpringTMS is available by prescription through a cost sharing program. It's available at certain clinics in London and other locations in England. For more information, visit the official UK website here. The company is eNeura.
In August, Kerrie Smyres did the legwork for us to get information about obtaining (and paying for!) the device in the USA. Essentially, SpringTMS is available by prescription under a rental program, and so the price will vary depending on the rental plan. There may be reimbursement through your insurance plan.
But I will let you read Kerrie's post for more details. Some of the information is applicable in the UK as well, so check it out if you're interested: Your Guide to Getting a Spring TMS
The official US website is here.
Here's a video made for US customers about the device: