What time of year are your headaches the worst? Do you have more migraine attacks in a certain season? That's been the question on our poll, and it's time for the results: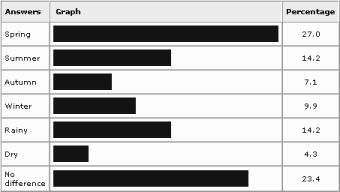 Yeah – interesting, huh? Spring, and rainy season are the very clear winners. What does that tell you?
It tells me – weather.
There are lots of reasons why other seasons should have won. Fall and winter? I'm thinking the stress of returning to school and work, the stress of the holidays, cold weather, darkness (in the north). Summer? Has it's own stresses. And a lot of people get attacks from a change of schedule, which summer is notorious for.
But no, it's spring – often a time of rain. And, of course, rainy season! There may be other reasons why these seasons peak the list, but I'm betting barometric pressure changes have a lot to do with it.
Of course, let's not ignore the fact that for a lot of people there's no difference at all. Pressure changes don't seem to make a difference for everyone. And of course there are weather patterns all year round that can cause headaches or migraine attacks!
Please check out our new poll question on the left of the main news page – this fits in with our new Community Question.
And, leave a comment – do different seasons make a difference to you? Why do you think that is?