Some doctors have recommended lipoic acid as a supplement treatment for migraine. So what exactly is it?
Alpha-lipoic acid (also known as thioctic acid or ALA, or there is also RLA, the naturally-occurring version) is a chemical that is found in some plants, and actually is made by your own body. It's an antioxidant, and so helps keep your body healthy while it fights inflammation. It also helps your body maintain proper levels of vitamin C and vitamin E. Both of these may play a major role in fighting migraine and headache.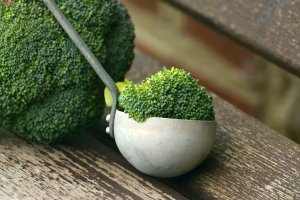 Now, we're all for antioxidants and healthy foods, but why ALA in particular? And why haven't you heard about it from your doctor?
The evidence for ALA for migraine is still fairly sparse, just because there haven't been many studies on it. A study in 2007 suffered because not enough patients were recruited for the study. However, the study seemed to show fewer headache days, and less intense headaches, with ALA. This was over 3 months (see A randomized double-blind placebo-controlled trial of thioctic acid in migraine prophylaxis..
ALA is much better known as a treatment for diabetics, to decrease nerve pain. In that case, patients take 600mg or more per day in two doses. It's also taken for weight loss and mental clarity. (Lots more information here: Alpha Lipoic Acid: Improve Insulin Sensitivity & Fight Diabetes!. Also see Alpha-Lipoic Acid.)
600mg was also the amount used in the migraine study.
Because lipoic acid comes from food, your best bet is probably to eat more ALA-rich foods. Broccoli is one of the best all-round foods for a migraine patient. Also try organ meat (liver, heart), spinach, and tomatoes.
So here are some things to consider:
Get ALA from food. This is almost a no-brainer, since we already know that foods like broccoli have so many benefits. Also try adding peas, brussel sprouts, carrots and beets to your diet.
ALA can be taken as a supplement for general health. You could try 50-100mg per day.
If you would like to try ALA specifically for migraine prevention, talk to your doctor about a 600mg dose.
Which supplement? An excellent version of thioctic acid is Country Life R-Lipoic Acid. It contains no gluten or milk or preservatives and is vegetarian. It's also one of the less-expensive versions of RLA, and was tested and approved by Consumer Lab.
If you're taking a higher dosage, an even less expensive version (also tested by Consumer Labs) is Vitacost Alpha Lipoic Acid. This would be a good option if you're going the 600mg route, because you can take it in two doses.
Finally, if you're looking for one of the highest rated brands on Amazon, Doctor's Best has a whole series of lipoic acid products to choose from. The reviews themselves are an interesting read, if you want to hear about how this supplement is actually helping people.