A new report suggests that doctors should take women seriously when new headache symptoms crop up late in pregnancy.
As we've talked about before, migraine symptoms in particular tend to either stay steady or even lessen during pregnancy – although sometimes they get worse (see Migraine During and After Pregnancy).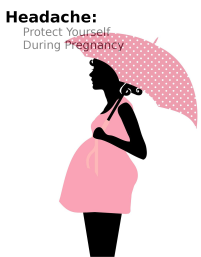 While headache symptoms anytime during pregnancy should be a concern, a recent report suggested special caution if there are headaches late in pregnancy, or even right before/after the birth of the baby.
Researchers at Icahn School of Medicine and Weill Cornell Medicine (both in New York, USA) suggest that brain and/or vascular imaging may be necessary to rule out urgent concerns. They write:
There is considerable overlap between the cerebrovascular complications of pregnancy, including preeclampsia/eclampsia, posterior reversible encephalopathy syndrome (PRES), reversible cerebral vasoconstriction syndrome (RCVS), and both hemorrhagic and ischemic strokes; although, their imaging may be distinctive. Imaging is necessary to distinguish between arterial and venous pathology causing headache in the peripartum patient, as there can be similar presenting symptoms. Mass lesions, both neoplastic and inflammatory, can enlarge and produce headaches and neurological symptoms late in pregnancy.
Imaging of Headache in Pregnancy.
So basically, there are a variety of conditions that may "look" the same in the doctor's office. Imaging techniques will help to narrow down exactly what is going on so that you can get the treatment you need.
Your doctor can help guide you and tell you the type of testing you may need. Whatever the case may be, remember that any new headache symptoms during pregnancy are a reason for concern, and should be discussed with a doctor who takes your concerns seriously.
For more information on headache and migraine in pregnancy, see The Myth-Busting Guide to Migraines and Pregnancy.