12-14 years ago, there was a lot of discussion about "PFO closure" for migraine.
PFO stands for patent foramen ovale, a hole in the heart between the right and left chambers. A PFO is a common developmental condition, affecting about 1 in 4 people. But you may never know you have it.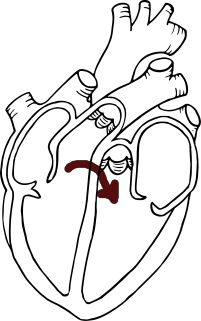 Surgery can be done to close the PFO, for example if someone has low blood oxygen levels that may be caused by the defect. But years ago, patients who had the surgery for various reasons began to report that their migraine attacks had also subsided.
And so began the investigations and the trials. The well known MIST trials, originally planned as a series of four trials, were cancelled before the second one was completed. The results were not encouraging.
More studies have been done recently, and results continue to be mixed at best.
So why is PFO closure still being discussed? First, because some patients do experience a reduction in migraine symptoms after PFO closure. Second, it's clear that migraine and PFO are somehow linked – PFO patients are much more likely to have migraine, and migraine patients are more likely to have PFO.
But a relationship does not mean that fixing one problem will fix the other, as trials have shown.
But there is more. For example, particles that move from one side of the heart to the other (through a shunt) may lead to migraine – not to mention the relationship between stroke, PFO and migraine. These particles in the blood may trigger a cortical spreading depression, a key part of the migraine chain-reaction.
In short, there are good reasons to think that PFO may actually increase migraine attacks.
So why doesn't everyone with migraine just have the surgery? There are actually good reasons. And this has been one of the downfalls of the trials – patients simply don't want to have heart surgery – even if it's fairly simple surgery.
Though the surgery is generally safe, there are risks. In a report published earlier this month, PFO and Migraine: Is There a Role for Closure?, the authors noted that "several potentially life-threatening procedure-related adverse events occurred in the clinical trials". There are also concerns that the surgery may lead to other health problems down the road.
Researchers remain intrigued by the possible connection between PFO closure and migraine. Although trials have been disappointing, it's still worth trying to understand the connection, which may lead to other types of treatment. And it could be that we can find a certain type of migraine patient who will benefit from PFO closure, even if those are a small percentage of migraineurs.
But in the mean time, the poor chance of success, and risk of other health issues, and availability of many better treatments, continue to leave PFO closure in the area of research and not in the area of recommended treatments.
As the authors of the above say, although some patients who have the surgery for other reasons may see a decrease in migraine symptoms (either due to the closure or other reasons?), they "recommend against offering PFO closure as a preventive treatment for migraine".
See also Closing PFO closure for migraine?