Last month in HeadWay we talked about probiotics. Keeping your gut healthy is very important when it comes to fighting migraine. We now know that probiotics in the gut can actually affect the brain. For that reason, probiotics are even being studied as a treatment for depression. And IBS, anxiety, high cholesterol – even symptoms of the common cold.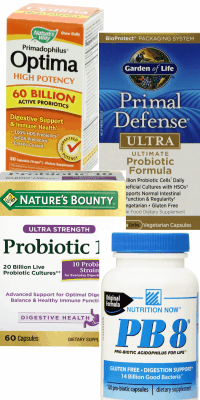 In a perfect world, your doctor would know your medical history and your conditions, test the flora in your gut, and design for you the exact probiotic you need.
But we don't live in a perfect world – most people who are convinced of the benefits of probiotics will just grab something off the shelf.
So for those of us just looking for a good, basic probiotic, what should we try?
I decided to do a little more research after last month's HeadWay, and here are some additional tips.
One of the few useful studies I've seen on commercially available probiotics was done by ConsumerLabs.com. They tested to see if each product contained what it said it contained, and also if it lived up to its claim to be gluten free (if it made the claim).
The products tested did surprisingly well living up to the claims on the label (which suggests that there has been some improvement in the last few years). There were two exceptions. Essential Formulas Dr. Ohhira's Probiotics performed the worst (ironically being one of the most expensive). The probiotics in the the product were extremely low.
The other exception was Jamieson Probiotic. But don't despair, if you're a fan – the capsules still had a very high amount of probiotics, even though less than half what the label claimed. This product would have been considered excellent if the number on the label was just changed.
So if you're looking for a probiotic, free from a lot of extra ingredients, but with a strong blend when you're ready to actually use it, what should you try? Here are some good brands:
The above products are recommended for everyone. There are also some excellent versions designed specifically for women. Check out:
Garden of Life Dr. Formulated Probiotics Once Daily Women's: Another very strong Garden of Life product – a fantastic blend with a huge count of probiotics. Gluten-free, vegetarian, and no milk! Amazon and Amazon UK
A few more tips. If a brand lists the amount of probiotics "at time of manufacture", AVOID. Probiotics commonly contain 50% or even less probiotics by the time they get to you.
Watch the label – if it needs to be refrigerated, refrigerate. Even if not, keep in a cool, dry place.
Can probiotics survive stomach acid? Yes, to varying degrees. One way to improve the usefulness of probiotics is to take them shortly before a meal containing some fat.
Gut health truly is one of the most important things to focus on to fight migraine. If you're going to invest in probiotics, be careful not to waste your money on any old brand. Find one that is tested and that contains a good blend.