A few weeks ago I asked on
Facebook
and
Twitter
for your suggestions for those who are thinking about going gluten-free. Here are some of the suggestions you gave, with a few I've received from other sources:
Websites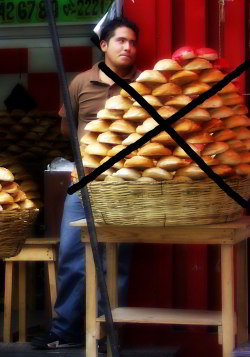 Crazy Gluten Free Lady: I'm certainly going to keep an eye on this blog. The brand new blog from Samantha (her friends call her Sam) is collecting recipes and tips for someone who is not only gluten free but a migraineur.
Elana's Pantry: After her son and herself were diagnosed with celiac disease, Elana went not only gluten-free but grain-free. Her recipes are interspersed with practical tips and real-life stories.
Gluten Free Girl and the Chef: Shauna is the gluten free girl, and Danny is the chef. Again, a great variety of resources here.
the-gluten-free-chef.com: Carol also has coeliac disease (yes, there are two spellings). This easy-to-navigate site will get you started with quick, accessible information.
The Celiac Diva: Lauren-Lucille is the Diva who runs this fun, colourful site which goes far beyond "don't eat gluten". Lots of resources, videos, and answers to your questions.
Udi's Gluten Free: Udi's is actually a company in the USA. Their online store features many quality gluten free foods.
Real Sustenance: Brittany focuses on recipes that are gluten and dairy free. Great recipes and inspiring photos.
Gluten Freely: Another online store in the US from General Mills, Inc. Again, only available in the United States. Easy to use, lots of gluten free products.
Trader Joe's: If you're in the US and you like Trader Joe's, you'll appreciate this gluten free guide.

Books
The Gluten-Free Almond Flour Cookbook
(in the UK
): Brought to you by Elana Amsterdam (yes, from Elana's Pantry above), this inexpensive paperback features recipes that are "low glycemic, low in cholesterol and dairy, and high in protein and fiber".
Deliciously G-Free: Food So Flavorful They'll Never Believe It's Gluten-Free
(for Kindle
) (in the UK
): Brought to you by Elisabeth Hasselbeck. If you're in the USA, you may have seen her on TV. Elisabeth has created a highly rated, full-colour cookbook that so far gluten-freers are loving.
Gluten-Free Girl and the Chef
(for Kindle
) (in the UK
): From the blog of the same name, this book combines 100 tested recipes from a professional with a love story.
Living Gluten-Free For Dummies
(Kindle Pocket Edition
) (in the UK
): I've been reading through this updated guide to being gluten-free. Lot's of helpful information in a clear and fun format. The Kindle pocket edition is currently only $2.99!
Gluten-Free Baking For Dummies
(for Kindle
) (in the UK
): For those who can't do without bread and cookies, this 2011 recipe book contains 150 recipes.
The Essential Gluten-Free Baking Guide Part 1
(for Kindle
) (in the UK
) and The Essential Gluten-Free Baking Guide Part 2
(for Kindle
) (in the UK
) from Iris Higgins and Brittany Angell (from Real Sustenance above). Gluten and allergen free baking, learn the basics of baking without eggs, corn, soy, and dairy. One look at the covers of these books, and you'll know they're pulling out all the stops.
Complete Gluten-Free Diet and Nutrition Guide: With a 30-Day Meal Plan and Over 100 Recipes
(in the UK
): With a title like that, who needs a description?

I admit I almost didn't buy this book because of the cover. Is this a book for people who are gluten free but want to live on brownies? But actually, the book is very practical, loaded with helpful information, and especially useful for those in the USA, Canada, and the UK (because of the information about laws and labelling).

Other Stuff
Actually, I'm not going to list every comment – check out our Facebook page for more. But I have to say the best advice came from Sarah Grizzard: Focus on what you can have instead of what you can't.
Seriously, there's so much great food out there. Just because your family and friends may be wheat-a-holics doesn't mean you have to be. And if you try to go gluten free, you can be sure someone will say,"Oh no, that means you can't eat __________!"
Let's face it, even the picture on this post focuses on the negative (I'll try not to do it again!).
Many people mentioned – keep it simple, stick to unprocessed, fresh foods – yes, that includes fruit and vegies.
Do you have resources and tips you would like to share? Now you have another chance! Leave a comment.

These other posts might relate: