I was a little surprised at the result of our most recent poll.
I wanted to hear from our visitors about their experiences with changing their diet to fight migraine. So I asked the question,"How much have changes in your diet cut down on your headache and/or migraine symptoms?". See the answers for yourself.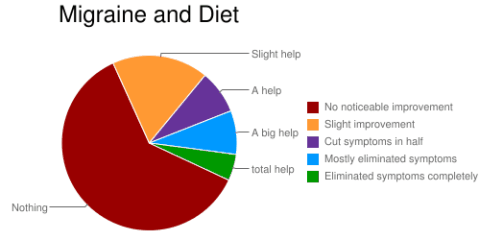 That's right – over 3/4 of respondents had at best a slight improvement.
Now I know for a fact that many people have seen major progress as a result of changes in their diet, whether that be avoiding triggers or eating a generally healthier diet. I still think this is one of the most powerful treatments for migraine.
However, diet is not just one thing. How do you find the right food to avoid? How do you find the diet that helps? How strict do you need to be?
That variation means that you could try many different "diets" and not find the one that could help you the most.
On the other hand, the fact that almost a quarter experienced significant relief – and 8% even pretty much eliminated their attacks – shows that diet is a powerful treatment. Not too many medications will get results that good.
So although I expected a higher success rate, I probably shouldn't have. There may be a good number of those who have not yet found relief who still will. And chances are that a new "diet" will never completely eliminate migraine. It's more than just what you eat.