This past September, Teva Pharmaceutical Industries Ltd. announced that it's anti-migraine patch, Zecuity, was finally available in the USA. Zecuity takes the tried-and-true sumatriptan and makes it new again. The unique patch delivery system should help patients that haven't had success with sumatriptan in the past.
You can learn more about Zecuity at their official website.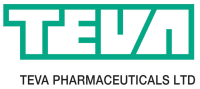 But Teva is pushing ahead with a completely new medication, currently known by the catchy name TEV-48125. TEV-48125 is a monoclonal antibody that binds to calcitonin gene-related peptide (CGRP), one of many similar medications being tested now.
Teva is moving into phase 3 of its trial of the medication this year. And that means the earlier trials have been successful.
First, no safety concerns have emerged so far. Second, TEV-48125 is working. Tried for patients with both chronic and episodic migraine, it tended to cut down hours with headache, and decreased the number of days with headache. It also helped patients who were not having success with their current medication.
As a preventative medication for those with severe chronic migraine, it started working as early as one week, but results were almost 5 times better after a month of treatment was completed.
It's looking hopeful that TEV-48125 will help patients with severe migraine who have had trouble finding successful treatment in the past. Next month, Teva hopes to start a new trial which will be completed in the fall of 2017.
For more information about past trials, see: