A fascinating study was released this past spring in the journal Neurology which gives us new insight into the way the "migraine brain" works.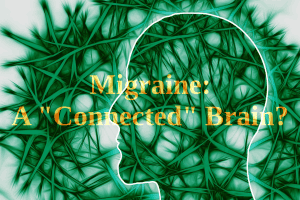 Although migraine has been around for millennia, it's only recently that we've started to uncover the progress of migraine attacks through the brain, and understand some of the mysteries of the way the body transmits messages of pain.
This study used imaging technology to look into the cerebral cortex and to measure "connections" within the brain. Comparisons were made between migraine patients and control subjects.
Functional magnetic resonance imaging (fMRI) is a neuroimaging technique that is commonly used to measure brain activity. The researchers were looking at a specific part of the cerebral cortex known as the anterior insula (AI). The AI is a part of the brain that measures and responds to stimulus that we take in via our senses.
Surprisingly, researchers found that there were unusual connections in the brain of the migraine patients. Their brains had more connections to the input of stimuli with auditory and visual centres, as well as pain centres. Essentially, there seems to be a way to "see" the extra sensitivity that many migraine patients have to light and sound.
Even more fascinating, these connections were detected when the patients were not having a migraine attack (examinations were done more than three days after and more than three days before an attack).
These images could explain why migraine patients are bothered by noises and light – even in between attacks. Would there be even stronger connections during an attack? This study, of course, doesn't tell us.
Study author Dr. Amy R. Tso explains some of the benefits of the study, and some next steps:
Clinically, in general with migraine therapies, we only have medications that target the whole disorder … If you identify an imaging marker, then you could use the presence or absence of that to track whether patients are responding to therapeutics. …

An obvious next step is to find out if this is a marker for migraine particularly or if this is just a marker of this sensitivity, and whether it exists across all headaches that share the sensitivity.
It would be fascinating to be able to target certain aspects of migraine in the brain itself. It would also be helpful to be able to "measure" the effectiveness of treatment, even before the next migraine attack.
Dr. Tso was also interested in the connection between migraine and anxiety disorders. Many people (not all) with migraine also have an anxiety disorders – disorders with seem to have similar "connections" in the brain. This study may help us understand the connection between migraine disease and anxiety disorder, and lead to treatments that could fight both.
For more information: