Last month the American Headache Society had their annual symposium in Arizona, USA. There was a lot of discussion about the new treatments coming down the pipe to fight migraine.
Dr. Peter Goadsby from the University of California did a brief interview which you can see here. But here is a quick summary of some of the things that he said. It's worth while taking a look, because Dr. Goadsby did give an excellent summary about some of the new migraine treatments that are now being tested.
What follows is a summary of the interview…
The Problem
Today we have various treatments for migraine, most of which were not developed specifically for migraine. We're not sure why many of them work, and patients must struggle with a number of side effects. "It's a really awful mishmash of things that we have to offer."
What's Coming
There are some very exciting treatments that are being developed. The two that the interview focused on are related to CGRP (calcitonin gene-related peptide neurotransmitter).
Now the exciting thing about both of these is that they are working well in various trials. In fact, some people taking these are going a long time with no migraine attacks whatsoever.
How does this work?
The treatments use monoclonal antibodies directed against the CGRP. (Note: these are antibodies created in the lab for a specific purpose. Monoclonal antibodies are also being used in cancer treatment.)
One question is just how to best deliver the antibodies to have the maximum effect.
A big question is – why do these medications work so well ("spectacularly well", said Dr. Goadsby more than once) for certain patients? If we can figure that out, we could "deliver personalized, highly effective treatments that are well tolerated to a group of people who are otherwise horribly disabled".
Dr. Goadsby thinks that the clue will probably be found in a genetic marker. If we can find better personalized treatments, we will help patients, doctors, and society as a whole.
When is it going to happen?
Dr. Goadsby was reluctant to make a prediction, but he finally said,"I'm going to predict that in five years or so we will be using these medicines in clinical practice and they will revolutionize practice."
Click the image below to go to the interview.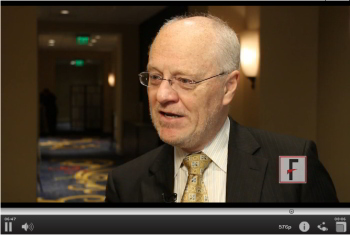 via The Daily Headache