Doctor, are your patients staying away from you because of your "bedside manner", or because of something that doesn't happen in your conversation at all?
We want patients to get the best care possible, and so if good doctors are losing patients because of small things that can be improved – they should know about it.
An interesting little analysis of data was recently done by Zocdoc, a platform designed to help patients find good doctors and make appointments. After every appointment, patients are asked for a review. What do those reviews tell us?
This was one of those simple reviews of words and numbers, which admittedly can only tell us so much. However, there are some clues here that might help doctors improve their ratings.
First, which words are common in positive reviews? Here are some examples: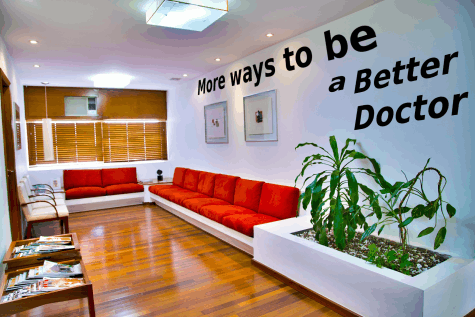 Friendly – that's the top one. Ok, pretty obvious.
Thorough – of course, we don't want the doctor to rush us out with a prescription of 2 aspirin before she really took the time to understand our symptoms.
Questions – interesting. This might relate to the one above. Taking time to answer? Asking good questions?
Knowledgeable – Yes, that's a biggie. How many hours did your doctor spend studying headache conditions? Certification helps here.
Appointment – Was it easy to get one?
Concerns – I can make a good guess here. Did the doctor actually listen to your concerns? There are many other related words down the list… caring, explained, answered, informative, attentive, listens…
Of course, sometimes the negative reviews tell us more than the positive ones. So, let's head over to that side. What did the bad reviews have to say?
Appointment – Yes, you saw this on the other list. Can you believe it, this was #1! Why? Were there mix-ups? Were appointments delayed? The research suggests that long wait-times, both before the appointment and in the waiting room were to blame. With a little organization, many of these complaints could have been avoided. Time to brainstorm in your office for some solutions!
Insurance – Again, easily making it in the top 2. Although the doctor only has so much control here, the office could make things go as smoothly as possible. Wouldn't you like to be known as the doctor and team that does everything to help patients get coverage? That would be such a help.
Waiting/Waited – Already talked about this.
Questions – Another one high on both lists. Did the doctor not take the time to answer, or even listen? Rushed also made it high on the list.
Rude – That one should be obvious. But notice it's a ways down the list!
Unprofessional – That can be improved, surely.
Another interesting thing to note about the negative reviews in particular. Words like "nurse" and "receptionist" were pretty significant. Meaning that the rest of the staff can make a huge difference. And, by the way, how does the doctor treat the staff? Just askin'.
I don't want to see bad doctors thrown out of the business – I would like to see them become good doctors. But perhaps even more important, I don't want good doctors to be avoided just because they don't know how to talk to their staff, or because their receptionist made a mistake in scheduling, or because they haven't found someone to help them administrate well. There are not enough good headache doctors as it is. Maybe a little feedback, positive and negative, can help make good doctors great.
To see the stats in more detail, check out What Really Motivates Positive and Negative Patient Reviews?. See also How to be a better Headache or Migraine Doctor