Migraine patients who are waiting for the launch of the new Zelrix Migraine patch, a patch that quickly delivers sumatriptan, will have to wait a while longer.
NuPathe Inc, developer of the patch, has been waiting on the FDA in the United States since October. The plan was to launch the product during the first half of 2012, but now that seems to be overly optimistic.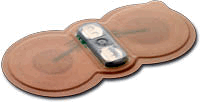 The Zelrix Migraine Patch
The migraine medication patch isn't just another drug delivery system. It's a single use patch that delivers the medication through the skin using an electrical current (iontophoresis). This method is already used in drugs such as anti-inflammatories.
One of the goals of medication such as this is to get it into the system as quickly as possible. Speed may make all the difference. In addition, Zelrix may avoid some side effects due to the delivery method.
But the challenge with a patch like this is that it's complex – not just a simple pill, but a piece of electronic technology (known by the company as SmartRelief).
The FDA expressed concerns about chemistry, manufacturing, and safety issues. NuPathe quickly assured investors that it could quickly address these issues, likely starting on trials and studies soon. The CEO of NuPathe, Jane Hollingsworth, said in a recent press release:
"This CRL [Complete Response Letter from the FDA] gives us confidence that we can provide the information needed to support FDA approval for our migraine patch in a timely manner. We continue to believe that our patch will address the symptoms of millions of patients who suffer from debilitating migraine headache pain and migraine-related nausea. We look forward to working with the FDA to bring this important product to market."
In spite of the assurance, NuPathe stocks took a major hit this morning. Investors are looking at a very challenging market climate, with so many migraine drugs now available.
And yet, with so many migraine patients still dealing with major symptoms, there's no doubt much more needs to be done.
Read the full press release from NuPathe here: FDA Requests Additional Information Regarding NuPathe's Migraine Patch in Complete Response Letter
More about the Zelrix Migraine Patch