You've just been diagnosed with MIGRAINE. It's natural to be confused, maybe even nervous or scared.
I've spent many years listening to and helping migraineurs. I've found that there are some common mistakes that people make when they're first diagnosed with migraine. Here are my top 10 – maybe one of them will help you to avoid the same mistake!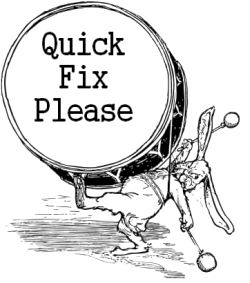 Expect fast results. No, actually, don't expect fast results! It's true that some migraine patients find a solution right away. But a decent trial period for a new treatment is often 3 months – and that's just trying one treatment. It's not just migraine – many neurological diseases require this kind of patience (for example epilepsy or muscular distrophy).
Don't see the doctor again. After all, it's "just" migraine. I just need some "painkillers" and a rest and I'll be fine. No – you should go back to the doctor for follow-up. This especially applies when your symptoms change. But really, because migraine takes time to treat and because it's a disease with complex symptoms and causes, you should be going back for more help.
Be satisfied with a diagnosis of "Migraine". In 1988, the Headache Classification Committee from the International Headache Society came out with a document intended to classify headache disorders, including many different types of migraine. The latest edition is from 2004. Knowing what type of migraine you have means you can find better treatment faster. When you get a diagnosis, check to see if it's in the document and if your symptoms match. If not, find another doctor and get a second opinion. (A simplified version of the International Classification of Headache Disorders (migraine section) here)
Rely on popular news reports and commercials for information on migraine treatment. News reports and commercials are important ways to get information out to the public. However, they will almost never give you a balanced view of migraine treatment. That's why crowds of people go after a "miracle" treatment before trying things that are much more likely to actually work for them. Please take news bites with a grain of salt.
Blame it on "stress". "Oh, it's just stress – I just need to wait until life calms down a bit." Using stress as a scapegoat has kept many, many migraine patients from proper treatment. Stress does not cause migraine, and there's some debate about whether it even triggers migraine attacks. It's a factor in the overall picture, but there are likely other issues that you need to deal with in order to properly treat migraine. It's not "just stress".
Rely on over-the-counter "painkillers". Instead of making use of medications and treatments that can specifically help migraine, patients often take the "shotgun" approach, and take a general purpose painkiller. This often leads to more symptoms and more pain in the long run.
Think you've tried "everything" after three different treatments. No one has tried "everything", because in this day and age there are so many treatments (yes, valid ones) for migraine that it could take a lifetime to give them all a try. Sure, it's discouraging when you've tried 5, 10, 15 treatments over many years. Take a break – but don't give up.
Rely one one kind of treatment. Only try yoga, or just drugs. Only try vitamins, and ignore the rest. Guess what? Many migraineurs have had great success with a variety of treatments. Medications and a change of diet, or the chiropractor and exercise, or magnesium and biofeedback… Don't be quick to rule out other types of treatment.
Ignore other symptoms. What other symptoms? Well, a very common symptom of migraine is headache. It's easy to focus on head pain, and ignore other symptoms. But your doctor can treat you better if she knows about other symptoms you're having, even if they're not migraine related. Dizziness? Nausea? Sensitive to light? Neck pain? Depression? And guess what? Many migraine symptoms are experienced between actual migraine attacks. The more you can describe your symptoms, the better treatment you'll get.
What would you add? Oops – I don't have a #10 mistake! You have some experience – what would you add as a mistake that people make when they're first diagnosed with migraine? Leave a comment!