It's the latest migraine gadget that everyone is talking about. It's the Cefaly Anti-migraine Device!
The Cefaly device is another application of neuro stimulation technology. Specifically, it's transcutaneous electrical nerve stimulation (TENS), which delivers an AC electrical pulse to the supraorbital nerve.
How do you use it? In this case, the device is used as a preventative. It's placed on your forehead for a few minutes each day.
A study published this month in the journal Neurology tried the device or a placebo (sham device) on 67 patients. The patients who used the real Cefaly device (group 1 below) showed a significant decrease in "migraine days" each month: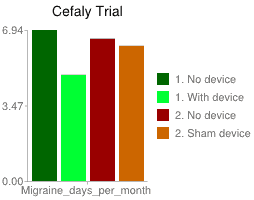 Now that may not look like a major improvement, but it did mean a decrease of 30%. And that's an average – some saw a much greater improvement (38% had a drop of 50% in migraine days or more).
Convenient? The device has been compared to the visor worn by Geordi La Forge in Star Trek the Next Generation. I must protest – it looks more like the crown of an alien princess. It's a band that goes on the forehead – small, easy to use, and drug-free.
Currently it comes with a significant price tag – US$368 on amazon, and $239.99 at Costco in Canada, for example. This will certainly keep a lot of people from giving it a try.
On the other hand, the initial results are encouraging for a device that's non-invasive and not likely to give you the side effects that drugs would. If it works for you, several more pain-free days each month would probably be worth the cost.
But it is good news to see more of these devices being tested and hitting the market, because we're learning more and more about what works best and for whom.
Study: Migraine prevention with a supraorbital transcutaneous stimulator
Cefaly website (international)
Cefaly Canada website