Back in March I posted some information about "Icekap", a "hat" with ice packs that can be used for conditions like migraine and insomnia. That may not sound like an astounding product at first, but it actually generated a huge amount of interest from our readers.
Andrea Jones, the founder of Icekap, was kind enough to send me an actual Icekap to try – so here's a review.
Initial Observations
Taking my first look at the Icekap, I was impressed with the quality. This is not something that's been thrown together. The material is soft. There are three ice packs, an extra "fleece sleeve" for one of the ice packs, and a bottle with 5ml of essential oil.
Actually using the Icekap
Just reading the information
on the Icekap website
, this is the part I was a little confused about.
So what I did was put the three ice packs in the freezer. When I was ready to use the Icekap, I took them out. There are three "slots" on the inside of the cap. You can just turn it inside out and slide the ice packs in. It won't fall out because of the way the pocket is designed.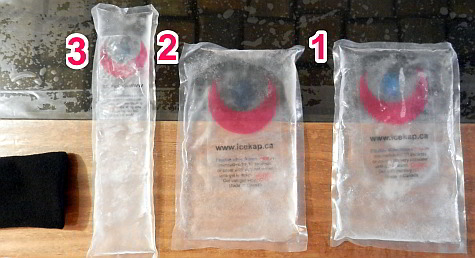 The first large one goes in the back, where it will cool the back of your neck. The second large one slides into a pocket on the top, to keep the top of your head cool. Finally, the long skinny one goes across the front, to cool your forehead. With the skinny one you have the option of putting it in an extra "case" so it won't be quite as cold.
The Icekap then slides easily onto your head.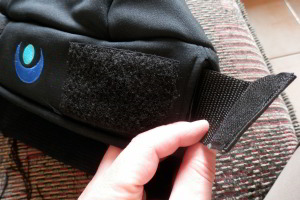 On either side is a strap, which you can either leave loose or attach (velcro-type fastener), depending on how tight you want the cap to be.
The regular size Icecap (more on sizes in a moment) weighs about 640g once it's all assembled together (if you use every piece). But it's balanced and comfortable and didn't feel heavy to me.
That's it! You can press and knead the ice packs a bit to make sure they're comfortable and where you want them to be.
The essential oil is basically a little bonus. It's a mix of lavender peppermint in a coconut oil base. If you want, you can apply two or three drops onto your neck or wrists or even use it in a diffuser.
Pros and Cons of the Icekap
Oddly enough, my biggest complaint is that the Icekap is VERY cold. Now that is obviously what some people want, but let me explain a bit more.
The ice pack on your forehead is particularly pressed against your skin. Now there is more than one layer of material there, so it's not like you're going to get frostbite. But if you have a larger head (mine is about average, I think!) and the regular size Icekap, you may find it pressing quite a bit and so very cold.
I think the second time that I tried the Icekap the packs weren't quite as frozen, so it was a little better.
Obviously this will vary with the temperature of your freezer. And the solutions are simple – in fact, it's probably better to have the packs a little too cold than not cold enough.
First, you can add the extra sleeve for the pack in front. You can adjust the pressure somewhat. You can put the Icekap on for less time, and then repeat (that's what I did, and it worked fine). Actually, you won't want to have it on for more than 15 minutes to half an hour at a time.
Actually, the packs are very adjustable. You don't even need to use all of them – you can easily wear the cap with only one or two packs where you want them. With the extra cover, you can use the long pack separately – I tried it, for example, on the back of my neck all by itself. It also works over the eyes if yours are feeling hot and swollen.
Now this problem would probably be solved with a large size Icekap. I would encourage the average and large men out there to go with the large for sure. It's very adjustable, so it's easier to make it more snug than to loosen it.
If anything, it was smaller around for me than it was up and down. But you can actually pull it down partway over your eyes to help block some light.
In fact, it's reversible! You can wear it with the larger ice pack at the front (just turn the Icekap around) and have the cool and dark right over your eyes. Nice!
The packs themselves are excellent quality (I've tried quite a few different kinds – even reviewed one here). They didn't get hard, and are easy to "knead" a little to the softness and shape you want them.
I also tried heating one – ten seconds at a time. Just knead it a little and let it sit for a couple of minutes so the heat is distributed throughout.
The material of the Icekap itself is soft and stretchy, and easy to adjust.
The ice packs are not hard to put into the Icekap. However, you might want to consider putting them in ahead of time, putting the whole cap in a freezer bag, and putting them all in the freezer together. That way you don't have to mess around with assembly in the middle of a migraine attack. Again – they're not hard to put in, but during a severe attack the easier and faster the better.
This is not a fashion cap you'll want to wear out on the town, but it has the feel of a topper for a Yukon winter when you're just getting the dog sled ready. 🙂
The essential oil is also an excellent bonus (and I've tested a lot of those too). Lavender and peppermint are two of the most popular oils for aromatherapy for migraine, and the go well together. Of course, not everyone will want to use the oils during an attack, but if not putting them into a diffuser at bedtime would be lovely.
Final thoughts…
Overall, I'm happy with the Icekap, I will continue using it, and I do recommend it. It does seem to be better than just using ice packs, because you can adjust the "cold therapy" against your head and keep it there even as you roll around in bed or move around the house.
I didn't try it later on at night, but I suspect it would be a huge help for someone with insomnia. Grab it from the freezer and put it on, just for five minutes, and chances are you will sleep a lot better. You could even pull out the ice packs afterwards and put them in your pillow, although I think using the Icekap itself is far more effective. I hope to give it a try one day soon.
Thanks again to Andrea for the sample! If you would like an Icekap of your own, check out the official Icekap website. For more details and a video, you can also read my previous post, Have You Tried the Icekap for Migraine?.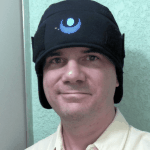 Oh, you wanted a picture of me actually wearing the Icekap? *sigh* Fine – just a little one. 🙂