Many people suggest that solar activity has an impact on their migraine attacks or cluster headache cycles. But could there really be a connection?
The short answer is – yes, there could be a connection. But understanding, confirming and explaining it is very difficult.
So how exactly does activity on the sun affect the earth?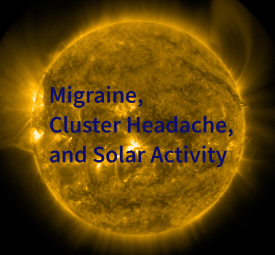 To explain briefly, solar activity can send a geomagnetic storm toward the earth. For the most part, we are well protected from these storms, which is why they don't generally make headline news. The biggest concern is usually satellites and electrical grids and equipment (including implants for heart patients).
We do know that magnetic fields are especially important to certain animals, such as those who use the earth's magnetic field to find direction.
It seems reasonable that changes in the magnetic field could impact human biology. In fact, there have been some studies done that suggest a connection between geomagnetic storms and lifespan (see here also), depression, and other diseases.
A connection – but why? Are solar storms affecting the earth in some way that in turn affects our environments and in turn affects our bodies? Or is there a more direct connection? What exactly are the storms doing? Changing brain activity? Changing our cells? Confusing neurological signals?
The questions about these global storms is as complex as the environment in which we live.
Yes, there have been connections suggested to the severity of migraine attacks (see Geomagnetic Activity and the Severity of the Migraine Attack) and cluster headache cycles (Cluster headaches and solar activity?).
If you would like the check for yourself if there is any connection, the information is a bit complicated but there are resources. The NASA website has a question and answer about migraine and solar activities here. The links are out of date, but you can still find the information on solar activity at the Space Weather Prediction Center. Check also NASA's Solar Dynamics Observatory.
At spaceweather.com you can actually sign up for alerts if there is solar flare activity.
If you've seen a connection between your health and geomagnetic storms, leave a comment! We would love to hear from you.
See also: Headache from WiFi? Electromagnetic Hypersensitivity