More bad news with good news for those with
chronic daily headache
.
Clinical Neurology News
reports on a study that links CDH with chronic musculoskeletal pain – but the study may have a silver lining.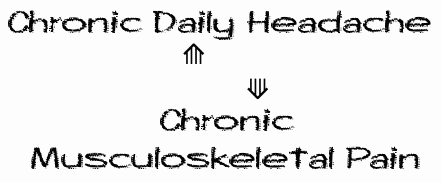 The report was made by Dr. Lars J. Stovner at the
European Headache and Migraine Trust International Congress
. The research showed a
bidirectional
relation between the two conditions.
In other words, patients with chronic daily headache were 1.8 times more likely than the average to develop chronic musculoskeletal pain. And patients with chronic musculoskeletal pain were 1.8 more likely than the average to develop chronic daily headache. This was a large study running for more than 10 years.
How could this possibly be good news? Well, as with any research of this kind, we do get more insight into what may be causing both conditions.
But it's more than that. If doctors realize that their patients are at risk, they can watch for the other condition and even take steps to lower the risks and prevent it.
Dr. Stovner says:

From a practical point of view, one can say that if one has a patient with one of these common complaints, one should try hard to treat it effectively not only to bring relief to the patient but to prevent the development of the other condition.
Take note, and discuss this with your doctor if you're dealing with either type of pain.