As we continue to wait for the first CGRP inhibitors to hit the market, clinical trials are giving us more clues about how the medications will actually work.
One of the most interesting trials was published at the end of November. Fremanezumab was the drug, and the target group was patients with chronic migraine (that is, headache pain more than 15 days per month, and specifically migraine attacks at least 8 days).
One group received 675mg every three months by injection. Another group had a 675mg injection the first month, then 225mg the next two months.
Now, let's look at the results.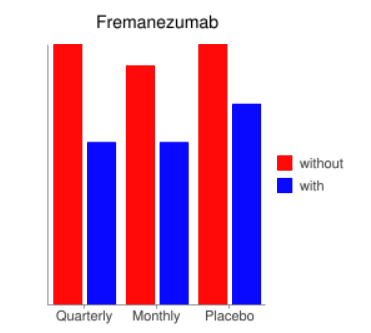 This is a helpful chart, but let me explain it. There are three sets of data. First, those who had a quarterly injection (before, and after, basically), then those who had a monthly injection, and then a placebo.
So you'll see that the quarterly and monthly injections were very similar, with the monthly being slightly better. Essentially, about four and a half headache days disappeared on average, or about a third.
Now we know that every patient is different, so here's some other interesting information. Almost 40% of patients had a 50% reduction in headache days.
I don't know if you noticed the same thing that I noticed or not, but here it is. The quarterly group and monthly group were very similar. So – for many patients, a quarterly injection may make a huge difference in their lives.
I realize some people hate injections, but for a lot of people, an injection every three months will be a lot better than a pill twice a day.
Obviously with a brand new medication we're still learning about which doses work best. So hopefully we can find ways to use CGRP inhibitors which will show an even greater improvement for many chronic migraine patients.
You can read more about the study here: Fremanezumab for the Preventive Treatment of Chronic Migraine