It's rare, but it is occasionally reported in medical literature. Hearing auditory hallucinations, most often "hearing voices", associated with a migraine attack.
Visual hallucinations are actually much more common, and can be something simple (such as seeing a flashing light) to something very complex (seeing people). But hearing things is so rare that it's not usually considered a symptom or trigger of migraine.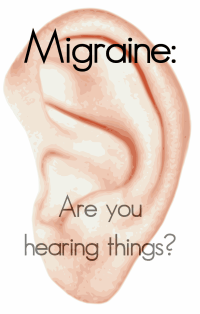 Researchers in the USA decided to do a little more research into this phenomenon. They confirmed that of all types of auditory hallucinations, hearing voices was the most common (but still only 58%). But the question remains, is this actually a symptom of migraine?
Most often the patients had the auditory hallucinations during the headache phase of the attack (75%), and it usually lasted less than an hour (67%). This seems to be something more common in patients who had at some time been diagnosed with depression, although many of the patients wouldn't fit in that category.
In fact, it was difficult to say why these patients experienced this symptom, when the vast majority do not. We do know that in the case of these patients (12 of them – remember, this is very rare), the symptoms did always come with the migraine attack and disappeared afterwards.
So here definitions become important. Is this a migraine aura? A migraine symptom? Or could it be that auditory hallucinations are something caused by another factor, but triggered in some way by the migraine attack?
We do know that there are other physical problems that could lead to hallucinations such as hearing voices, such as blood flow to the brain or issues with the messages sent through the nervous system. But for now, although some patients may need special treatment just for the hallucinations, the answer seems to be the usual – treat the migraine attacks, and these strange symptoms should disappear as well.
Have you experienced anything like this during a migraine attack? We would love to hear from you!
Study abstract: Auditory hallucinations associated with migraine: Case series and literature review.