Back in June of 2005 we were talking about a surgery for migraine disease being pioneered by Dr. Bahman Guyuron. Dr. Guyuron has been involved in surgical procedures in the USA and Canada for many years, most notably in the area of plastic surgery. It was while he was doing plastic surgery that he discovered that some of his patients were finding relief from their migraine attacks.
So he tested a surgical technique to target some trigger areas for migraine. First, each patient is "tested" with botulinum toxin A (Botox). The Botox treatment confirms the target sites.
Then comes the main surgery. The surgery removes tiny bits of muscle or nerves in the head, to relieve the pressure on certain nerves, thus eliminating triggers in some people. Sometimes other minor procedures are used.
69 of Dr. Guyuron's patients were followed up throughout the following five years. The results are looking good.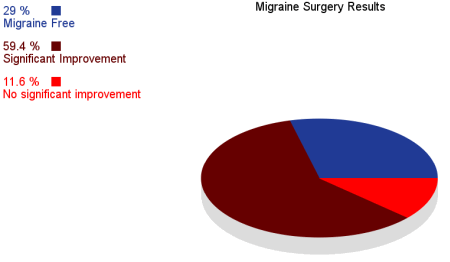 These are, of course, very good results. Now, it should be noted that only certain patients would be approved for this type of surgery. However, it is likely that most of these patients had tried many other things without success.
Also, 10 patients (out of 79) were removed from the study because they required further surgery (they're not included in the above chart).
Usually, surgery is not recommended for migraine. You will try many of the other options available before you should even consider surgery. Dr. Guyuron himself looks for people who have at least two or three severe attacks each month that do not respond to medications.
The recovery time for this surgery is about two to three weeks. As with any surgery, there is some risk, but problems with procedures like this tend to be rare.
Incidentally, we recently talked about Dr. Guyuron for another reason. He's the man behind Innovative Medical Equipment, the company that has developed the SootheAway Continuous Thermal Therapy Device.
Read more about Dr. Bahman Guyuron here. If you want to read more about this particular study, check out this article at WebMD – Cosmetic Surgery May Also Treat Migraines.