If you follow Headache and Migraine News on Twitter or Facebook, you will sometimes see notices about drug shortages; particularly shortages that affect those of us with a headache condition. In a world where we have a dizzying array of options available to us, drug shortages make the list of options deceptive.
In other words, we may have a lot of drug options, but is the best drug for an individual actually available? And – maybe this is the worst part – just how long will it be available for?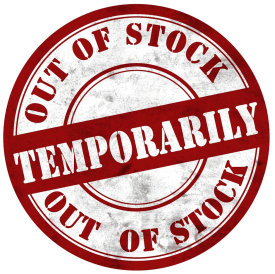 Imagine finally finding that delicate balance of treatment that works. Suddenly, the drug isn't available. Or the cost has skyrocketed.
Commented on a recent article in the journal Headache, Dr. Alexander Mauskop mentions a few of the treatments for headache and migraine that are in short supply, sporadic, or even completely gone. Certain magnesium treatments, ketorolac, valproic acid and ergotamine all show up on the list. (See Shortage of drugs is a growing problem)
The reasons for the shortages are complex. Insufficient funding (a well known problem with migraine and headache), changes in national border policies, changes in the industry, merging or splitting of drug manufacturers, breakdowns in the manufacturing process (for example, a factory destroyed by a natural disaster), growing demand, availability of raw materials, and even decisions to simply stop manufacturing a drug that is "not profitable" all contribute.
The issue is not limited to one country, or even one system of health care. More privatized health care along with more government run systems all suffer, although they each have their unique problems.
When all is said and done, money and politics are powerful forces when it comes to drug shortages, even if the problem cannot be blamed on a single cause. As far as the system goes, most of us in democratic nations can have most influence in the area of politics.
But first, be aware that no drug solution is "forever". Not only may your body stop responding the the medication, the medication may no longer be available. Sometimes a drug is manufactured in a different way, meaning that it may not longer work the same for a certain patient.
Pay attention to and communicate with your insurance company. You may also be able to keep tabs on the drug manufacturer. Your pharmacist may also know of trends in the types of medications you use.
Your doctor cannot possibly be aware of all the changes in the drug industry, but she should be aware when there is a shortage of a drug affecting her patients. She should also have an idea what other drugs may work well for you if one becomes temporarily or permanently unavailable.
Beyond this, check with your local government representatives to find out what laws are in place. Do drug companies need to give you any warning at all if a shortage is coming? Are there laws to cushion the sudden increase in medication prices, or to make sure you're warned in advance? Can drugs be brought in from another source (even another country) if there is a shortage? What laws cover pain medications, and medications for conditions such as migraine?
Unfortunately, anyone taking any medication needs to be prepared. We need to be ready to look for other alternatives, and we need to think deeply about how we could improve the situation in our region and country.
Also see…