I'm just stopping by to clarify a few things regarding the Migraine World Summit 2017 library that may be confusing. Hopefully this will be a help.
Your free ticket to the summit does not give you access to the library. Nor does a pass from 2016.
However, whether or not you had a free ticket, you can still purchase full access. Whether you attended the summit or not, you can still "attend" now by watching all the sessions, plus you can get access to the additional resources.
As I mentioned before, unless you really want the physical "boxed set" delivered to your door, don't waste your money. The VIP Access Pass includes everything the boxed set does, plus you can download the material to your hard drive if you want (or make your own "boxed set" for free!). The VIP pass is a HUGE savings, and as material is added you will have access to that as well. (You may want the boxed set if you have a slow internet connection – in that case it would be worth it.)
Yes, all the material is now online. However, there will be updates (for example, if there is a new book coming out that was mentioned in a session, it will be included once it's available).
Your investment in these resources will also help fund migraine advocacy and research around the world.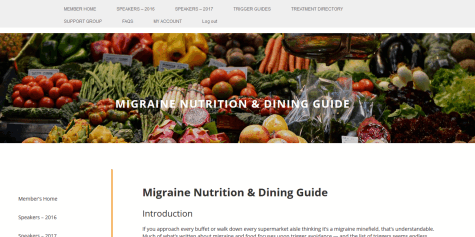 I've given you an overview of how to use the library, how to sign up for the support group, etc right here: Get the Most out of Your Migraine Summit Library.
Since then the extra resources have been completed and are now online. There is a lot of useful material there. Are you looking for a HUGE list of treatments, listed by whether or not they're free and how they work? What medications are called in different countries? Tips on using treatments?
What about tips for nutrition that can fight migraine? Evidence from various studies and trials?
Would you like to be better prepared to go to emergency if you need to? How about a free form that you can print out to prepare and help doctors know how best to help (when you're in no condition to discuss all the options)? Tips about when to go to emergency in the first place?
That's just a hint of all the resources available in the VIP Access Pass (note – they're not available in the All Access Pass. So I would highly recommend investing in the VIP Pass instead.)
This is all extremely useful information for migraine patients and the people close to them. If every patient had this arsenal at their disposal, it would truly challenge the common misconceptions and poor treatments that are so common. Knowledge, in this case, really is power.
If you'd like to see a summary index of the resources available, visit this page.