Many of you purchased the Migraine World Summit library of videos, transcripts and resources last year and this year – others of you are newcomers. Here's how you can get the most out of one of the most cutting-edge resources available to migraine patients today.
First, if you haven't specifically invested in this year's summit, you can do so here. At the moment you can't access this from the main page of the summit, so you'll need to use the special link.
You'll be presented with three options. The most expensive option isn't necessary unless you want a copy of the summit actually delivered to your home. Otherwise, you can get an All Access Pass (which includes the entire summit, plus access to the support group) or the VIP Access Pass, which includes access to curated resources (and yes, these are updated or entirely new from last year!). I opted for the VIP Access Pass.
Once you have the pass, you can log in. There you'll see the member's portal: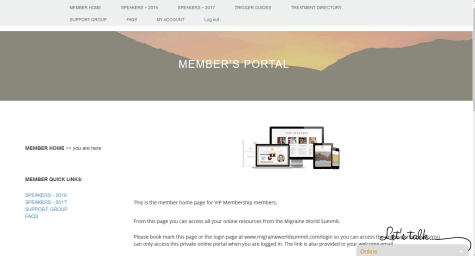 First, click on the SUPPORT GROUP in the top menu. This will take you to Facebook where you can join the group. You're not automatically in – you need to take this step.
After that, you'll see that you have access to all the videos from the summit. When you go to the videos, you'll see the speakers and length of each video, and you can watch them, re-watch them, watch part of them – anytime!
And YES – you can even download the videos to watch on your computer or device (if you want to – but it's easy to watch online). (So again – unless you have a really slow connection, you won't want to opt for the most expensive pass – the Boxed Set Plus Pass). Stick with the other two and save your money!)
On the video pages you'll also find links to more resources, and audio version (sweet!) and even a transcript! No, you don't have to stare at a video to get this information!
(Sorry, I just really love the transcripts and audio. I don't need to stare at my screen any more than I really have to.)
Please note that not all of the transcripts are done yet – expect them in a week or two.
You'll also see in the top menu a TRIGGER GUIDE, with fact sheets on various migraine triggers (also easily downloadable!).
There is also a TREATMENT DIRECTORY with some well known migraine treatments – those treatments mentioned in the summit in particular.
The extra brand new guides (emergency guide, nutrition guide, etc) will be ready in a few days and will be added then at no extra charge to you.
If you have further questions, you can either access the live chat or click FAQs. At the bottom of the FAQ page (make sure the FAQs don't have the answer to your question!) there is a form you can use.
Remember, there isn't a team of thousands running the support – give them a little time.
Speaking of which, did you know that there were 60,000 people involved in the summit, that the campaign reached over a million, so far? Not including those who weren't able to watch the summit, but are purchasing the summit library? That's a lot of people – this thing is growing fast!
I hope that helps get you started. If you haven't invested in this resource yet, I highly recommend it. Just click here to see your options.