So you had what seemed to be a migraine attack. First migraine then bloodshot eye. A bloodshot eye? Is that a symptoms of migraine?
First I should ask what you mean by a "bloodshot eye". You could mean that you actually have a large red patch in your eye. That is what is called a subconjunctival hemorrhage. This happens when one of the tiny blood vessels in the membrane covering your eye bursts. Though it looks terrible, it's usually harmless and goes away in a few days to a couple of weeks. The hemorrhage itself is generally not painful (if it is, talk to your doctor).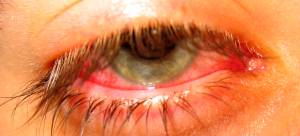 A bloodshot eye from an infection
A subconjunctival hemorrhage is rarely associated with migraine.
On the other hand, some people talk about bloodshot eyes and are referring to inflammation. When the blood vessels become inflamed, they become more red and prominent in the eye. This type of bloodshot eye, or red eye, is actually very common in migraine.
This migraine attack may include not only red eyes but watery eyes. The symptoms, along with the congestion that often comes along with migraine, lead many to believe they have a "sinus headache".
Why a Migraine then Bloodshot eye? Possible cause…
As a migraine attack progresses, it causes inflammation, especially around the head and facial area. It's this inflammation that may cause the symptoms around the eyes and nose, such as a runny nose, watery eyes, and congestion. This part of the inflammation probably starts with the trigeminal nerve and spreads.
So what can be done?
If the bloodshot eye is simply part of the migraine attack, migraine treatment should resolve the red eyes along with everything else. However, this brings us to a couple of warnings.
Are you sure it's Migraine?
If you're experiencing new symptoms, or your symptoms have changed, you should talk to a doctor who knows your medical history. A bloodshot eye could be a sign of something else, and to treat it you need to know what you're dealing with. For example, glaucoma, which may also make you nauseous and sensitive to light.
A bloodshot eye is actually a much more common symptom of cluster headache. Cluster headache pain is often localized around one eye, one side of the temple, or in the upper jaw. Like migraine, symptoms may include congestion. The eye may become red, and the eyelid may droop.
During a cluster headache, the person becomes agitated and may pace the floor, where migraine patients more commonly want to lie down in a dark room.
These are called "clusters" because they come in cycles of several weeks or months, then they disappear for months or even years. The headaches generally last from 15 to 3 hours, and will repeat from every other day to several times a day.
If these symptoms sound like you, you may have cluster headache. But either way, if you're having new symptoms, or you're not sure, talk to your doctor.
The migraine then bloodshot eye sequence is not unusual. Read here for more on the strange symptoms of migraine.