Here are the results of the poll that we've been running here at Relieve-Migraine-Headache.com. The question was, I've had chronic headaches for… (how long). 837 people responded, and here's what they said: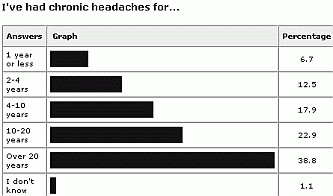 So, almost 40% had had headaches for over 20 years, almost 62% for over 10 years.
On the brighter side, I just got an email from a former HeadWay subscriber who said she was unsubscribing because she'd had very few headaches over the past year thanks to a preventative medication she had been taking. Those are the kinds of emails I love to get!
So keep fighting back! There's hope, even after 20 years.
On the main news page is a new poll. Take a moment to vote!