Although many people are injected with Botox (onabotulinumtoxinA) (botulinum toxin type A) and they never have any significant problems, there have been cases of severe health issues.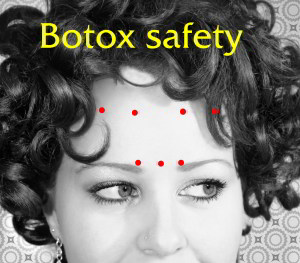 Only receive injections from a professional trained and experienced in using Botox for migraine. Many problems can be solved simply by visiting someone who knows what they're doing.
Be sure the doctor knows your medical history. This includes your experience with migraine, any previous Botox treatments, previous surgeries, any medications you take (including sleeping pills, allergy medication, blood thinners, antibiotics and muscle relaxants) etc.
If you have infection, muscle weakness, or inflammation where you're going to be injected – wait for another day.
Tell your doctor if you have experienced any side effects from a previous treatment.
Check the ingredients – if you have an allergy to any ingredients in the injections, don't have the treatment.
Do not start any new medications without telling your doctor that you've had Botox treatments in the past.
After the treatment, tell your doctor immediately if you're experiencing any of these side effects: itching or rashes, trouble breathing, trouble swallowing, drooping eyelids or drainage from your eyes, vision problems (double vision or blurred vision), heart problems or chest pain, muscle weakness or paralysis, loss of bladder control, trouble talking or hoarse voice. Note that some of these symptoms could appear several weeks after your treatment.
If you are pregnant, trying to get pregnant, or breastfeeding, discuss the risks with your doctor.
Be aware that Botox could cause migraine-related symptoms. These include headache, fatigue, anxiety, and pain in other parts of the body. Hopefully you won't experience these symptoms. However, do discuss the pros and cons with an experienced doctor before starting treatment.
Botox should not be the first treatment you try for chronic migraine. Look at other options first – not only medications, but also non-drug treatments. If your doctor recommends Botox treatment when you've first been diagnosed, get suspicious and seek a second opinion
Please remember that these are not reasons why no one should ever try a Botox treatment. As with just about any treatment for migraine, there are pros and cons. Being aware of them helps you to have the safest and best options without making things worse.
For more, read about Botox headache injections here.
See what Allergan (the makers of Botox) has to say about Botox safety