I know I provided a link to an article on this one, but it's worth repeating. And since these sites will likely be gone pretty soon, I'd better write about them now.
The product that you may have been hearing about is Migraine Miracle. Far from a miracle, it's a fraud. Stolen testimonials, false claims – the same product even (supposedly) cures cancer. FDA approved? The FDA claims it never even got an application. What happened, was it lost in the mail?
A number of people noticed the sites and started complaining. After a few sites were shut down, more were put up. It's just unbelievable – well, no, it's totally believable. And you'd better believe it or you'll get caught in the same trap as many others likely were.
Here's a view of the front page of many of the Migraine Miracle websites: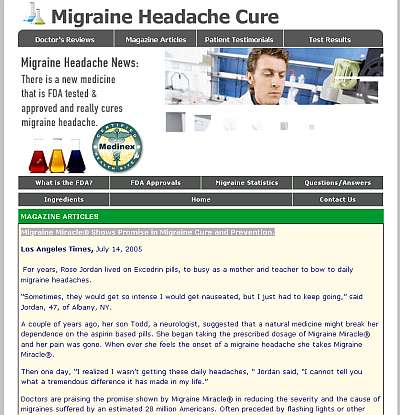 Yes, you read right. The site actually claims this is a cure for migraine. Why hasn't your doctor told you about it? Because he won't make money if you're cured. What's the proof that the product works? Looks like there are testimonials, doctor's reports, stats, magazine articles. And besides, they offer a money-back guarantee.
Folks, these people are preying on you. I understand, you've tried everything and nothing works – these people tell you they have the answer. You've been frustrated by doctors that don't understand – these people tell you that your doctor is only after money, but they want to help you. You want proof – they offer proof. You want to get it now – no prescriptions, no nothing – they offer it to you now. Problem is, it's a fake.
You've heard it before – if it's too good to be true, it probably is. Yes, there are people who have found very good solutions to their migraine problem. You can too. But double check the information. Contact the doctors who supposedly give the "testimonials". Check the news sources and ask them. And look for a second opinion.
Here at Relieve-Migraine-Headache.com, you'll see all over the website that I quote other sources. Don't take my word for it – click the links, do a search. That's why I provide these sources. You should be doing that with any website. Don't let these people or people like them take advantage of your frustration, pain and discouragement.
As of this moment, here are a couple of the sites that are still up, if you want to see what tricks these people (this person?) are up to:
[update: I've removed the links. Thankfully, these sites are long gone. But watch out for new ones!]
Here is a news article on the story:
St Petersburg Times
I'm sorry for getting so worked up on this one – but this type of scam has been going on for centuries, and it must stop.