Many people use the Medisafe app to remind them to take their medications. But even if you've been using it for a while, you may not be aware of some of the extra features for both patients and doctors that Medisafe has developed.
If you're not familiar with Medisafe, check you Here is a method that is helping people remember to take their meds!
For one thing, you may not know that Medisafe can connect with other health information on your device. Medisafe can collect all the information so that you and your doctor can see your progress.
Your doctor can then see your information at a glance, as below. Doctors, you can see a demo of how this works at Medisafe for Providers.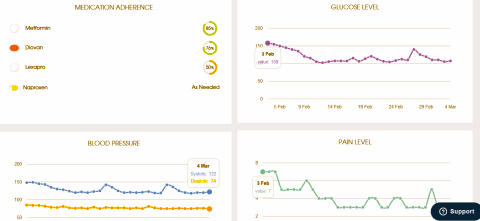 But is my information safe?
Medisafe is very serious about keeping your information private. They are HIPAA (Health Insurance Portability and Accountability Act) compliant, which means that Medisafe and any related organizations and technologies use a number of safeguards to keep all your information private wherever it's stored and however it is transmitted.
For more on HIPAA compliance, see this Summary of the HIPAA Security Rule.
They're also ISO 27001 certified, meeting international standards of security.
Medisafe has always been very interested in making their technology easy to use, and this is being extended through the use of iCap.
What if you could just take your medications as you normally do, without actually having to enter the information into a smart phone? That's where iCap comes in. An iCap is actually a "smart" pill bottle cap. You don't press buttons or enter numbers, you simply open and close the bottle as you normally would.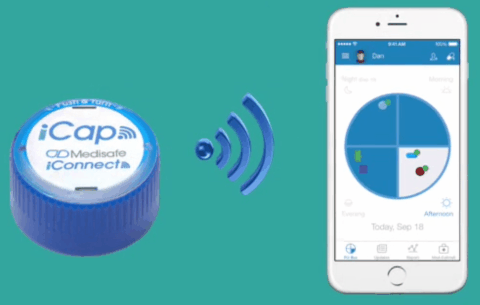 The iCaps use bluetooth to connect to the Medisafe app. The information can then be sent (automatically or otherwise) to a trusted family member, and even to your doctor. The technology can even send you or a friend or doctor text messages and email reminders.
But that's not all. The cap actually lights up. That's right — it alerts you, so that you'll know if you've taken your medication or supplement or vitamin or whatever it may be.
iCap can even be used for migraine medication taken "when needed", such as a triptan medication.
Don't be embarrassed if you sometimes forget to take your medication – your doctor will not be shocked or surprised. However, with technology like this, you can really stay on track much more often and really see which medications are helping and which are not.
Check out the iCaps right here.
We have been using Medisafe in our family for quite some time now. Start with the app – it's free. But be sure to take a look at some of the other things you can do with it.
While you're working at improving your treatment, check out 7 Ways to Stick to Your New Treatment (or not).
Visit Medisafe's main website here.