It may not be obvious to everyone why Migraine Art: The Migraine Experience from Within is such an important book.
But this
magnum opus
from Klaus Podoll and Derek Robinson is a key to migraine research that has been a long time coming.
I've been dealing with migraine symptoms for well over 20 years. I've read countless pages of research, and innumerable experiences from migraine and headache sufferers from around the world.
Even after all that, there's still more to learn about our symptoms. Sometimes we ourselves don't realize consciously what we're experiencing – maybe because it's become so "normal". Or we fail to realize how different someone else's symptoms are, assuming everyone is like us.
That's one reason why migraine art is so powerful. When we don't know how to put things into words, sometimes we can relay information more completely through art. The works in Migraine Art that have been collected over many years tell us a story that we rarely get from research and statistics.
Our understanding of the brain has come a long way in the last 20 years. But in some ways, what we've learned has brought up more questions than answers. Migraine art has given us a glimpse into the brain that no scan can yet give us.
For example, in 1941, US neuroscientist Karl S. Lashley amazingly predicted the concept of the concept of cortical spreading depression, by drawing and timing his own visual aura experiences. This idea of the "brain storm" that impacts migraine is one of the most modern theories of how migraine works.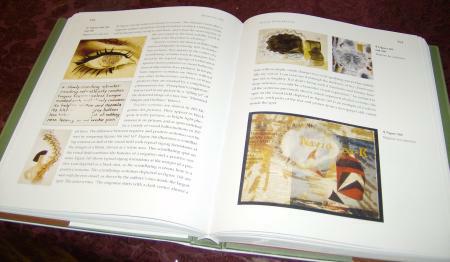 Throughout this beautiful book of full colour pages, Podoll and Robinson analyze migraine art that demonstrates not only various symptoms, but also triggers, and even how migraine impacts life in general.
You may not see the same statistics here that you'll see in other research. The point is not to give an overview of all migraine research, but instead to see migraine in the light of the art. However, the book is carefully foot noted and connected to research, again making it an important contribution not just to patients but to the researchers and medical professionals as well.
If you want to understand your own symptoms better, and those of others, there are few books that will offer more insight. This is the work on migraine art from the top experts in the field, based on many years of careful research.
You may be wondering how Migraine Art differs from the also excellent Migraine Expressions: A Creative Journey through Life with Migraine. Migraine Expressions is also a colourful book full of migraine art, but it also includes poetry and prose. It's focused simply on the works of patients, and is easy to pick up and flip through.
Migraine Art: The Migraine Experience from Within is a more scholarly work. It's more focused on specific symptoms and their expression in art, and goes into detail about what the art means. It's emphasis is on pictures (more than 300 of them!), not writing (although it includes descriptions of the art by migraineurs). You'll learn much more about the history and use of migraine art, and symptoms you've probably never heard discussed other places.
Don't take this book to be the end-all of migraine research. On the other hand, if you want to get an intimate glimpse of migraine from a unique perspective, I highly recommend this book. It's also a must have for serious researchers – a work unlike any other that will be valued for years to come.

Migraine Art thus stands as the definitive work of its kind–an incomparable collection of material on the visual and other phenomena of migraine, and, by implication, on the brain processes which underlie these. It will serve to reassure, enlighten, and inspire…
- Dr. Oliver Sacks, from the Forward
Migraine Art: The Migraine Experience from Within now available here
These other posts might relate: