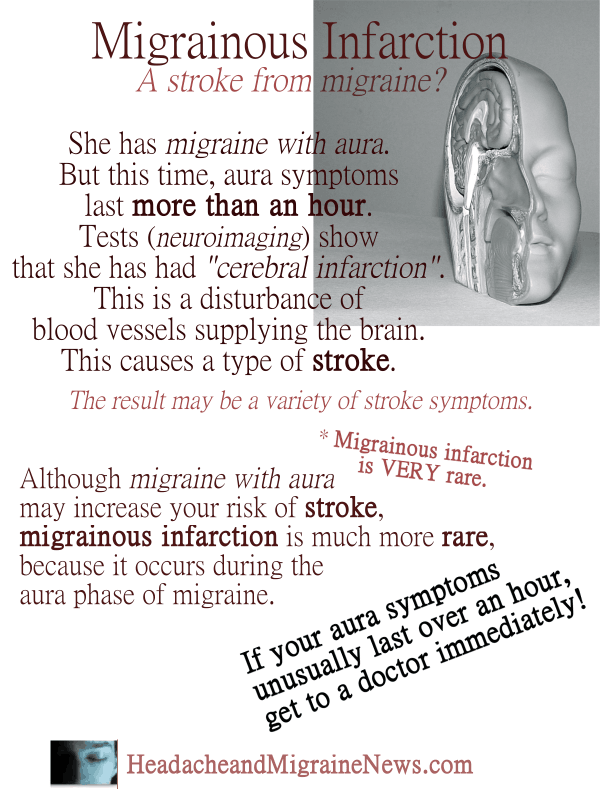 She has migraine with aura. But this time, aura symptoms last more than an hour. Tests (neuroimaging) show that she has had "cerebral infarction". This is a disturbance of blood vessels supplying the brain. This causes a type of stroke.
The result may be a variety of stroke symptoms.
Although migraine with aura may increase your risk of stroke, migrainous infarction is much more rare, because it occurs during the aura phase of migraine.
Migrainous infarction is VERY rare.
If your aura symptoms unusually last over an hour, get to a doctor immediately!
Additional notes: In answer to the question above – is this a stroke from migraine? We actually don't fully understand the connection. Migrainous infarction is not a stroke which happens to occur during a migraine attack, or the migraine-like symptoms that may accompany a stroke. In migrainous infarction, the aura symptom or symptoms are actually related to the infarction. In other words, the blood vessels and part of the brain which is affected is related to the type of aura symptoms you have.
Again, it is extremely rare, and people have been mistakenly diagnosed when they actually have a different condition.
For more information: Migrainous infarction from the International Headache Society; Clinical and MRI characteristics of acute migrainous infarction.