Sooner than expected, the migraine medication currently known as galcanezumab finished its phase III trials, and is preparing to apply to the FDA in the United States later this year.
Galcanezumab is a medication from Eli Lilly, in the new class (and much anticipated) of migraine medications known as CGRP inhibitors. There are a number of these medications approaching the finish line in their trials.
So how did galcanezumab perform in these trials? Very well, and as expected from previous trials.
The charts below show how many "migraine days" were eliminated by using 120mg of galcanezumab as opposed to a placebo. For episodic migraine, as tested over 6 months: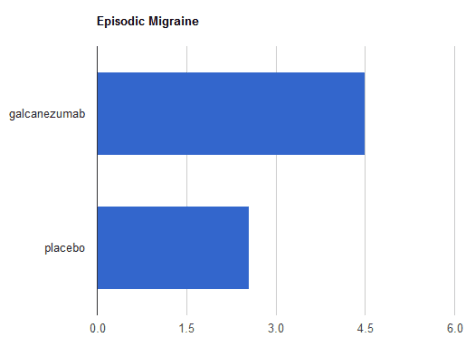 For chronic migraine, testing over 3 months, the results were equally positive, cutting almost 5 migraine days per month: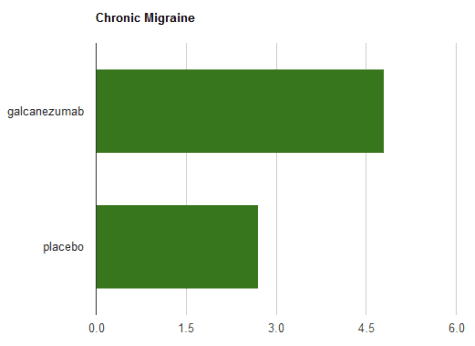 This means that the new drug could give patients over 55 more migraine-free days per year.
With these positive results, Eli Lilly will be submitting what is called a Biologics License Application to the FDA, which is basically a request to be allowed to sell their product throughout the country. After that, they will begin applying in other countries worldwide. This will start in the last half of this year.
Official press release from Eli Lilly: Lilly Announces Positive Results for Three Phase 3 Studies of Galcanezumab for the Prevention of Episodic and Chronic Migraine