There has been an increasing interest in tinted glasses for migraine patients. Although tinted glasses are nothing new, research is beginning to bring us some decent science behind using tinted glasses to fight migraine symptoms (see for example this from USA Today: Special tinted glasses may stymie migraines).
There are a number of different approaches. Of course, quality sunglasses have helped a lot of people. There are also custom made precision tinted glasses, where a patient is tested and given a tint that seems to help them the most.
But even custom made precision tinting is an imprecise science, as we continue to learn more about how migraine impacts the brain. And such a service may not be readily available where you are, or within your price range.
However, there is another option. There is increasing interest in precision tinted non-prescription glasses that can be produced at a lower cost in higher quantities. This can be done because certain tints seem to help migraineurs in general, and so lenses can be produced for migraine patients in general instead of being custom made.
Now Available: A New Lens Designed to Fight Migraine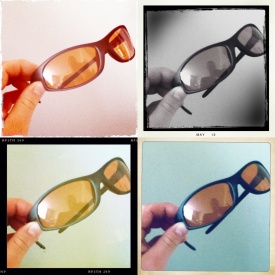 (These are all the same pair of TheraSpecs – it's the pictures that are tinted differently!)
There's a new precision tinted therapeutic lens – and the good news is, it wasn't developed by some engineer in a office building who doesn't know anything about migraine. These glasses were developed by Hart Shafer and his wife Kerrie Smyres. Many of you will know Kerrie from her blog, The Daily Headache.
This means that the glasses were tried and tested over time by someone dealing with real migraine attacks. (I've followed and communicated with Kerrie for many years – I know she's the real deal)
For example, here's Hart explaining how they had found some lenses that worked well, but…
But they were far from perfect. When she wore them she also always put on a baseball cap and often held her hands up beside her eyes to block light from the sides and reflections behind. The glasses simply let in too much light from around the lenses, especially from above. That's when we started talking about the ideal glasses for people who suffer like she does.
Once Hart and Kerrie had come up with a design they liked, they sent them out to various other migraineurs, myself includes. The reports that came back were good.
I'm still experimenting with the ones I have – Indoor TheraSpecs – but I did know right away that I liked them. Here are some of the reasons why:
They are light weight. What migraineur wants something heavy pulling on their face?
They have a wrap-around design. That means that they block out light from the sides, while still giving you a good field of vision.
They're flexible and strong. They're not going to break easily – they're built to last, as an investment in your health.
There's more. There are indoor and outdoor versions, meaning that the indoor ones are lighter (great for under flourescent lights you can't escape or in front of a computer screen) and the outdoor ones are polarized, which cuts down glare (seriously, if you've never tried polarized sunglasses, you'll be amazed at the difference).
If you have migraine, and especially if you've found that fluorescent lights or computer screens bother you (either when you have a migraine attack or when you don't), this is an excellent option to consider. Many people have been very surprised at the different that can be made with precision tinted glasses such as the TheraSpecs.
I won't go into any more detail, because the TheraSpecs have an excellent website of their own with lots of information. If it helps, though, I will say that I am not being paid or given a commission to promote these glasses. I have seen the product, and I've been watching the research over the past few years, and I believe that the evidence is there. Take a look and see what you think.
If you've tried the TheraSpecs, leave a comment and let us know what you thought!