Researchers are still interested in finding the "best" or more effective way to administer Botox, or onabotulinumtoxinA. There is a typical way of administering the Botox, but research has been limited into variations.
A typical procedure for chronic migraine would be 31 injections in 7 areas. But a study published last month in The Journal of Headache and Pain is opening the door to other options, and to a different understanding of how Botox works.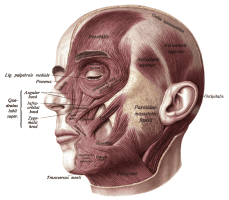 The study included 63 patients with chronic migraine. The injections on the face and trapezius muscles used a "follow-the-pain" approach, with a fixed number of injections per muscle. The total Botox used was less than would be used in the more "traditional" treatment (in quotes, because all of this is still pretty new).
65.1% of patients experienced at least a 50% reduction in headache days. For over 70% of those, the improvement was greater – a 70% or greater reduction in headache days. Most patients were happy with the treatment.
That's a significant improvement. Not only does this open up possibilities for a simpler treatment, it also raises questions about how the treatment works.
The researchers favoured "myofascial" sites of pain. If you're familiar with myofascial trigger points, that's what we're talking about here. It could be that those trigger points play a role in migraine becoming chronic, and also in relieving chronic migraine.
A significant use of Botox is a mission to seek-out what areas of your face and neck are most related to migraine, or other types of headache. Research needs to continue to give us more information, and better treatment.
Read the study abstract here: OnabotulinumtoxinA injections in chronic migraine, targeted to sites of pericranial myofascial pain