The American Academy of Neurology has officially come out in support of Botox, or onabotulinumtoxinA, as a treatment for chronic migraine.
In last week's print edition of the journal Neurology, new guidelines were released for the use of Botox for chronic migraine, and certain other conditions. The strongest evidence was for Botox as way to increase the number of "headche-free" days for patients with chronic migraine. But there was also moderate evidence that it could improve overall quality of life, as affected by the headaches from chronic migraine.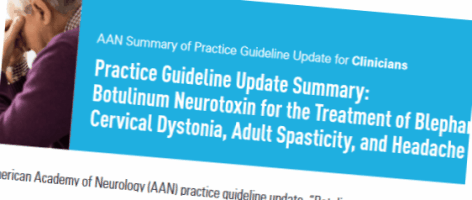 On the other hand, the AAN is not recommending Botox for tension-type headache (even it it's chronic) or for episodic migraine.
In other words, if you're considering Botox, make sure you've been diagnosed with migraine, and that you have at least 15 days a month with a migraine attack.
These recommendations are not suggesting that Botox is the first treatment to try or the best treatment for chronic migraine. However, it is another treatment that's worth trying to decrease headache days.
If you're thinking of trying Botox, be sure to check out How to be Safe with Botox (10 tips).
Here's the summary sheet of the updated Botox guidelines from the AAN (pdf).