You've lived with it – migraine, cluster headache, chronic daily headache – whatever it may be. You've lived with it – and you would be surprised what you've learned, what you've observed, what you've suffered and never felt you could share.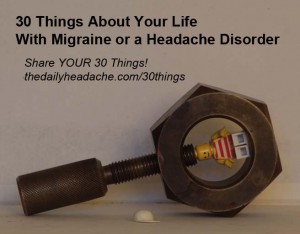 Well now you have a unique opportunity to talk about it in an easy way (and maybe even win a prize!). Kerrie is hosting a "30 Things" meme over at The Daily Headache. You will have 30 quick questions to answer (you can be anonymous if you prefer), such as:
10. The most frustrating part about having CDH is:
12. During my first cluster attack, I thought:
18. I get angry when people say:
21. Something kind someone can do for me during a migraine attack is:
26. If I could go back to the early days of my diagnosis, I would tell myself:
. . . and so on.
This is a great way to be involved this month – Migraine and Headache Awareness Month.
Simply go to www.thedailyheadache.com/30things, scroll down and choose your headache disorder (migraine, cluster, NDPH, CDH, tension-type or other), and submit your answers. Once approved, they will be posted.
Be sure to read what other people are saying right here.
Oh, what about the prize? This from Kerrie:
By submitting your answers, you'll be entered to win a 30-minute phone or Skype coaching session with me or your choice of any pair of indoor TheraSpecs.
…
To be entered, simply submit your responses to the 30 Things meme by midnight June 29 (Pacific time). For extra entries, share your URL on Facebook or Twitter as many times as you wish before midnight June 29 (don't forget to tag The Daily Headache or @tdhblog). On June 30, I will announce a randomly select a winner. To preserve anonymity of those who prefer it, I will only announce the winning entry, not the winner's name. [continue reading…]
Thanks, Kerrie!