It's in the news yet again, thanks to a study from Johns Hopkins University School of Medicine. This time, it's a link between obesity and episodic migraine (as opposed to chronic migraine).
The study concluded that the obese population was 81% more likely to have episodic migraine (EM) than the general population. Or, about this many in a group of obese subjects would have episodic migraine: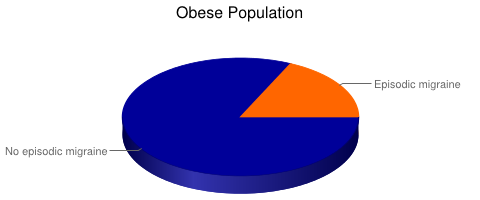 So – naturally – what's the solution that's being proposed? Exercise and a healthy diet, of course!
And no one wants to discourage anyone from a healthy diet and exercise, do they?
Well, of course not. And neither do I. In fact, I would suggest that those two things might just out-do any pill that has been invented. Maybe.
But I'm afraid there's a real danger in over-simplifying the connection.
The study, in fact, shows that there's an increasing risk of EM as you become more obese. So – the more weight I lose, the fewer migraine attacks I'll have – right?
Here are a few reasons why we shouldn't be hasty to draw this conclusion.
Which is a result of which? Does the obesity increase the chance of migraine, or is it the other way around? Just because there's a correlation does not mean that one causes the other.
Obesity is clearly not the one risk factor or cause of migraine. If it's one factor in 100, there could be 99 other things that are more important to deal with first. We don't know. But we can see from the chart above that obesity ≠ migraine.
What about migraine medications? Many meds are known to promote weight gain in some people. Could that alone explain the results of this study?
Dr. Tobias Kurth, interviewed by Reuters, pointed out that historically obesity is on the rise but migraine is not. If there was a strong correlation, why aren't both rising together?
What about conditions that are comorbid with migraine? Could they be causing the obesity, and not migraine itself?
There are a number of other factors we don't know about. Would these statistics hold true with younger migraineurs? What about different types of body fat?
So let's not raise an eyebrow at the overweight person with migraine – assuming that it's all their fault that they have migraine – if only they'd just get it together….
No no no. There could be many factors leading a person to be obese – in fact, following a doctor's treatment plan for migraine could have even contributed to the weight gain. So let's be real careful here before we act like we know what the problem is.
Now, before you run for another bag of candies or a Peppermint White Chocolate Mocha with Whipped Cream, let's remember a few things. There does seem to be a connection, and it could actually be that weight gain does contribute to your risk. And there's no doubt at all that a healthy diet and exercise are two of the best migraine fighters out there.
No, we shouldn't pin all our hopes on weight loss, and aim to lose the pounds at the exclusion of all other goals and at all costs. However, improving our health, including aiming for a healthy weight, simply has to be a part of our overall treatment plan.