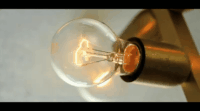 Lately I've been sharing graphics on Mondays, but today I have something special for you. It's not new, but I'm sure many haven't seen it before.
What follows is a short film that received a special mention from judges at the 2010 Neuro Film Festival. This competition encourages films that raise awareness of neurological diseases, such as migraine.
Filmmaker Anne De Lean had her first migraine attack at the age of 12. Thankfully, she was diagnosed early because she was the daughter of a Canadian neurologist.
This is a great film for doctors, nurses, family and friends to watch and discuss together. It's short (under 4 minutes) but it portrays migraine in a unique and powerful way.
One thing many will argue with is the emphasized line Migraine does not kill. Migraine may not kill immediately and directly, but it can be seriously argued that migraine has been a major factor leading to the death of many. This is because of the impact it has on the body and health in general, and because of comorbid diseases that tend to go along with migraine. But that's a topic for another day.
Suffice to say, migraine is serious and dangerous.
Now, please take a few minutes to watch The Sound of the Light Bulb.
If you're a filmmaker considering a film about migraine, please think about entering the competition for 2014. The deadline is the 26th of February 2014.
If you want to support migraine research, click here for more information.
For an interview with the filmmaker, read A Filmmaker on Migraines: 'I Could Hear the Light Bulb'.