There are a lot of you out there – and it doesn't matter if it's a multivitamin or a migraine medication – you dread taking pills. You choke, you gag, and it doesn't matter what brilliant advice you get, the time comes and you have the same problem.
Or maybe you're trying to help a child take a pill – something you feel they really need – and it's a horrible disaster every time.
Believe it or not, wiser minds than mine have come up with some clever solutions to these problems. First, a spray.
The Spray Solution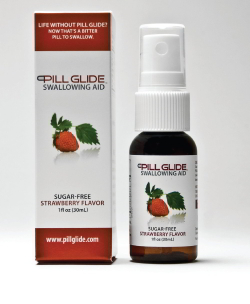 The spray comes from a company called FLAVORx, which actually specializes in make flavours for medications for children – and, believe it or not, even pets!
Using their expertise, they created Pill Glide, which not only adds a pleasant taste, it also allows the pill to slide down your throat without making you gag.
It's sugar-free, and each bottle is good for about 100 uses. Pill Glide is also recommended to care givers, who help patients who for various reasons have extra trouble swallowing important medications.
(By the way, they also have peach, grape, orange and bubble gum) The spray is also available in the UK here
.
The Cup Solution
Another clever invention is the pill swallowing cup. Oralflo has a small, portable cup especially designed to make taking pills easier.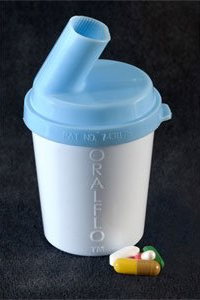 You simply fill the cup half way with a drink of your choice. Then you snap on the lid, pop the pill or tablet into the top nozzle, and drink.
As one reviewer pointed out, there is a bit of a "technique" to this – not a hard one (it actually makes things a lot easier), but you do need to do it right. Check out the Oralflo Pill Swallowing Cup here.
If you're looking for something even more portable, you can try the Easy Flow Pill Swallowing Aid.
Chalky pills, big gel caps, split pills – these items can make taking them a whole lot easier.