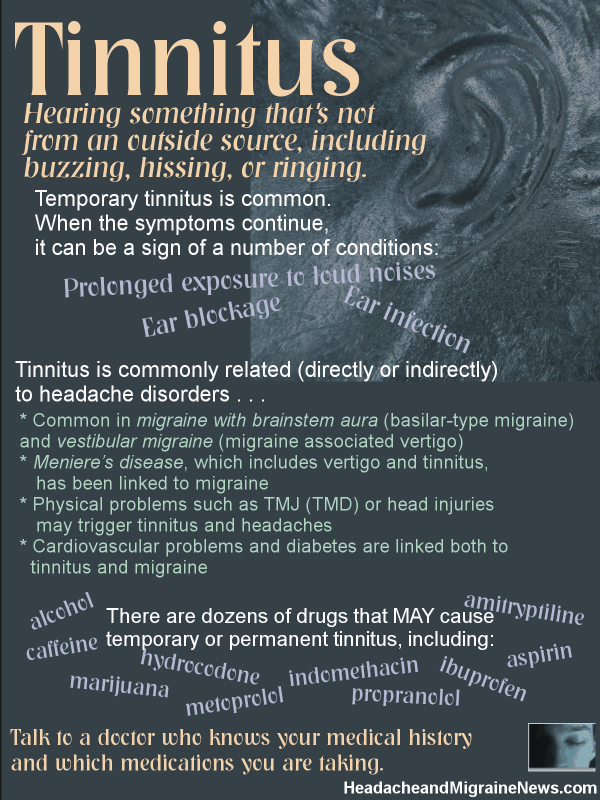 Tinnitus:
Hearing something that's not from an outside source, including buzzing, hissing, or ringing.
Temporary tinnitus is common. When the symptoms continue, it can be a sign of a number of conditions:
Prolonged exposure to loud noises (the most common cause)
Ear blockage
Ear infection
Tinnitus is commonly related (directly or indirectly) to headache disorders.
Tinnitus is common in migraine with brainstem aura (basilar-type migraine) and vestibular migraine (migraine associated vertigo)
Meniere's disease, which includes vertigo and tinnitus, has been linked to migraine
Physical problems such as TMJ (TMD) or head injuries may trigger tinnitus and headaches
Cardiovascular problems and diabetes are linked both tinnitus and migraine
There are dozens of drugs that MAY cause temporary or permanent tinnitus, including:
alcohol
amitryptiline
aspirin
caffeine
hydrocodone
ibuprofen
indomethacin
marijuana
metoprolol
propranolol
Talk to a doctor who knows your medical history and which medications you are taking.
For more on tinnitus: