There are so many options when it comes to migraine or headache treatment – but which health professionals are actually helping patients?
That was the question of our most recent poll – Which one of these (health professionals) has helped you really fight headache/migraine symptoms?
Here are the results: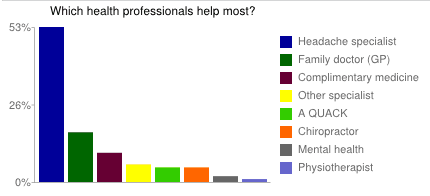 Dentists, nurses and OB/GYN doctors did not get any votes (remember, this is a small poll – I know these have helped many people too!).
What can we tell from this poll?
First, we are right to point people to headache/migraine specialists. People are finding good treatment when they go to someone with knowledge and experience in the field.
Second, they're not the only ones making a difference. There are many health professionals who have really helped (remember, anyone who got a vote was someone who had helped a patient the most (patients could chose up to 3).
This poll should not suggest to you that you should go to a specialist and ignore the rest. I'm a big advocate of having a team fighting for you. You could be missing some important treatment if you only go to one person. Get different kinds of advice from different perspectives, and you'll be a lot better off.
Yes, some people voted for a total, complete QUACK. Well, unless you're a duck, I suggest you stick with people who have some real knowledge in the field, and just avoid the quacks right from the start. 🙂
Now why not vote in our new poll? Check out the right side of this page…