Zecuity, the skin patch for migraine, has had a bad month.
On the 2nd of June (this month), the FDA announced that they are investigating the risk of burns from the patch:
The U.S. Food and Drug Administration (FDA) is investigating the risk of serious burns and potential permanent scarring with the use of Zecuity (sumatriptan iontophoretic transdermal system) patch for migraine headaches. We are investigating the cause and extent of these serious side effects and will update the public with new information when our review is complete.
FDA Drug Safety Communication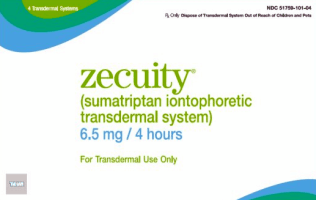 On the 10th, Zecuity manufacturer Teva Pharmaceuticals decided to temporarily stop sales and marketing:
Teva has been working closely with the FDA to examine reported adverse skin reactions associated with ZECUITY usage. At Teva, we are deeply committed to the safety and well-being of people who use our products. As such, we have decided to engage in a voluntary suspension of the sale, marketing, and distribution of ZECUITY while we continue our investigations into the root cause of these adverse skin reactions. In keeping with this market suspension, we have initiated a pharmacy-level recall of the product.
Letter from Teva
Patients are advised to stop using the Zecuity patch right away.
The symptoms some patients have reported include itching, burning, and other pain. Some of the skin reactions were not resolved after several months.
It's not clear exactly what is causing these reactions. This is, of course, a well-tested product. It's hard to speculate whether the product could actually return to the market as-is with further warnings/instructions, or if it will have to go back for further testing.
Zecuity is a method to take sumatriptan. If any medication can be taken in many ways, it's sumatriptan. However, as we all know, there are those out there who have probably been helped by Zecuity who haven't been helped by other treatments. (More on this product)
Another issue is that this technology holds great promise for other migraine treatments and beyond. It would be a shame if there was another major setback, although hopefully this will be an opportunity to further improve skin patch products.
Important to know: