You feel restless when you're trying to — rest! Especially your legs – you just have to move them. It's making it hard to sleep, actually. You might just feel restless, or actually feel "pins and needles" or an itchy feeling in your legs.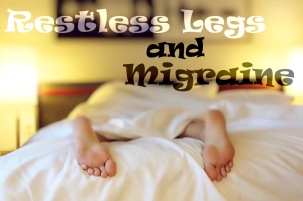 This is a common condition known as restless legs syndrome. It has long been associated with migraine, as well as conditions such as diabetes. For a quick summary, check out this graphic on restless legs syndrome and migraine.
A study completed last year has confirmed once again the connection between RLS and migraine (Prevalence of restless legs syndrome in migraine patients with and without aura: a cross-sectional, case-controlled study).
This study did find a that your risk of RLS increases with migraine with aura, and also with chronic migraine. Perhaps unsurprisingly, other factors included anxiety and poor sleep.
Some people have this condition and don't even realize it. But it is robbing them of sleep – and that can lead to more and worse migraine attacks.
A while ago we talked about an important question that your doctor should ask you – When you woke up this morning, did you feel refreshed? If you have chronic migraine – the answer is almost certainly no.
The lack of good sleep could be caused by RLS – or a type of sleep apnea, among other things. But it's almost certainly going to lower your sense of well being, increase anxiety, and increase symptoms of migraine.
Treating migraine may actually help with symptoms of RLS, but it could also work the other way around. That's why it's wise to talk to your doctor about both.
If you're not sure if you have RLS, the Restless Legs Syndrome Foundation has a handy tool you can use to keep track, similar to a headache diary. Talk to your doctor about your sleep. Be cautious of caffeine (watch out for medications that contain caffeine!), and try taking a walk shortly before bed time.
It can be a vicious circle when you suffer from migraine and RLS. But there is help available if both conditions are taken seriously.